Another Avalon report from me, what a surprise.
I came home for spring break, my last one before graduation, so why not get some fishing in before I'm thrown into the real world?
3/27
I took the 6 am ferry to Avalon from Long Beach. This time around, none of the bonito hunters were around. I started off fishing the Cabrillo Mole for bonito using a 42 gram coltsniper. The first fish I caught was a short calico that came up to the surface to chase the lure.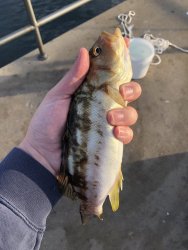 Greedy little guy.
I fished the jig for a while, but fishing was slow. I caught two bonito, one ~14" and one ~18" that I released, since I was staying a night.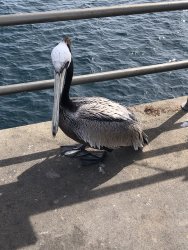 I'm sure you're all tired of bonito pictures so here's a pelican.
I stopped fishing the jig at 10, and tried float fishing for opaleye. I caught one smallish opaleye, but otherwise, I couldn't get away from the hordes of juvenile halfmoon.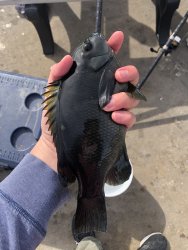 Just a Little Guy.
When I checked into my hotel at 11, I took a peek at the GPP; the water was very turbid from the last couple storms, so I decided not to fish there. I returned to the Mole and continued to fish the float rig and jig intermittently, for little luck other than halfmoon and garibaldi. In the late afternoon, I switched over to a dropper loop with squid for the ever reliable ocean whitefish. There was a decent bite on smaller fish, with some slightly bigger ones mixed in.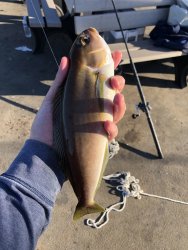 The humble and ever-faithful ocean whitefish.
At some point, I saw some movement near the surface. It was a juvenile ocean sunfish that had its dorsal and anal fins torn off by a sea lion, and had its eyes pecked out by gulls. The poor thing was still alive and flailing helplessly at the surface. Rather than let it suffer pointlessly for a sea lion's entertainment, I snagged it and euthanized it.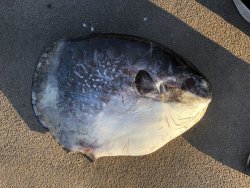 Really put a damper on an already not great fishing day. (No I did not take it)
As the sun went down, I threw out a chunk of mackerel on a big circle hook. I wasn't planning on staying long, so began packing up. Not long after I threw the bait out, I got a short clicker pull. After letting it run for a bit, I hooked the fish, which turned out to be a decent sized horn shark, which was released.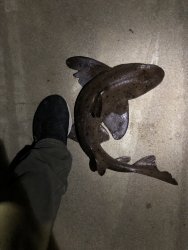 Size 11 foot for scale.
I called it by 8, and headed to my hotel room.
3/28
I got up at 5 am and got out to the Mole by 5:30. I started off throwing another chunk of mackerel out, while fishing the jig. It didn't take too long for the bait to get some attention, and I pulled up a 15" sheephead.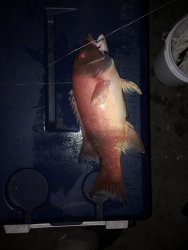 Why couldn't they have been this easy to catch last year?
I kept on fishing the jig, and caught some large jack mackerel. As the sun came up, the bonito started biting. At first, I caught some schoolie-sized fish.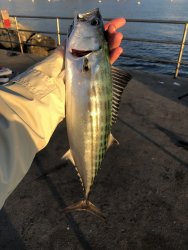 bonito jumpscare
Then, several sea lions showed up. With no other anglers to take off the pressure, I was about to enter tax season. I lost at least half of the fish I hooked, with several lures. Twice, I hooked up on two big 24"+ bonito that were taken by the sea dogs right at the pier. Every fish they grabbed they threw around for a bit, tore out the guts, and left the rest to rot. Even as they were chewing on the ones they stole from me, whenever they saw me hook up, they dropped whatever they were doing and made a beeline for the base of the Mole. I persisted, and eventually caught a limit of bonito. Mixed in were some huge mackerel, the biggest was 16", and FAT.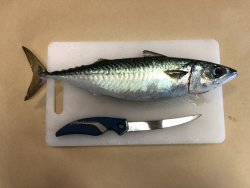 Image from the future, but I cannot emphasize enough how big these mackerel were.
I had enough of the sea lions' BS, plus I had a decent amount of fish. So I changed my boat home to the 11:50 am departure, packed up by 11, and went home.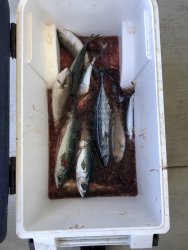 At least some of the fish, trying a different format from the butcher paper lineup.
Moral of the story:
Sea lions are the absolute worst, and we need more great white sharks.
Last edited: