Shortish report mostly because I left my phone in the car and don't have a timeframe for various events.
3/22
After barely catching the 6 am ferry, I started fishing the Mole with Hashem and Fish-Ninja. I think I started off fishing a 42 gram coltsniper for no bites, then switched to fishing cut sardines on a dropper loop. I hooked a 16" sheephead, which would have been risky to flip over the railing using my light setup, Fish-Ninja kindly helped me out and grabbed the fish after I lifted it up onto the lowered section further down the Mole.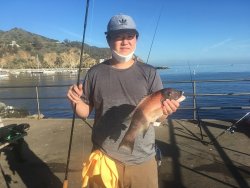 The exact sequence of events is a bit fuzzy, but fishing was relatively slow with bonito only showing up well into the afternoon. Before then, I fished for whitefish (as per the last couple trips), somewhere in the mix I caught a kelp rockfish and a garibaldi. Fish-Ninja's persistence in jigging all day paid off as he caught the first bone of the trip. After some unsuccessful fishing using the coltsniper and splasher, I switched to a 40 g jigpara and began fishing it quickly. I hooked up with a 22" bone, with Hashem coming in with the net job.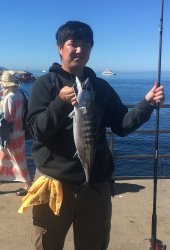 Fish-Ninja let me try out one of his setups, and after not too long, I hooked up with a 23" bonito which was again netted with Hashem's help. Afterwards I didn't get any more bites, and after watching Fish Ninja leave on the 7:45 ferry, I headed to my hotel room and passed out.
3/23
Somehow I was able to wake up at 6 am. I started off fishing the Mole again. There was an incredible number of opaleye, more than I've ever seen before at the Mole, in and around the kelp, all of which refused to bite on peas. I resigned myself to fish for whitefish again. Hashem joined me later in the morning, and we had some slow fishing and windy conditions. I decided to check out the GPP. Fishing was much quicker there, I caught six opaleye, a couple short calico, and lost a decent sheephead right at the pier that had decided to bite on a single pea. I returned to the Mole and tried bonito fishing for a while for no luck, then continued to fish for whitefish. I lent one of my setups to some people that were fishing with little luck and helped them catch some whitefish of their own before taking the 7:45 ferry home.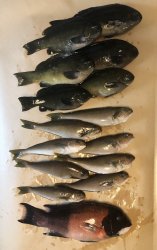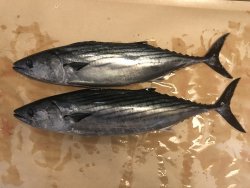 It was a pleasure fishing with Hashem and Fish-Ninja, even with all of our 'antics', and without them I would not have caught as many fish as I did; for that I will be always grateful.