A Trip To Catalina —January 31, 2021
Heading south and the counties roll by—Fresno, Tulare, Kern, and finally Los Angeles. I was on the road again and once again the destination was Long Beach where I would catch the ferry to Avalon on Catalina Island. By now, after 22 such trips over the past 20 years it's an easily defined route, one where I know where to get the best gas prices, best food, and best places to stay. But no, that was before the specter of Covid-19 set in and made the regular irregular. It is what it is.
However, the ultimate goal is always the same, to enjoy the piscatorial delights at that magical island of Catalina. And even with Covid-19, the same mix of species, fish common to Catalina but somewhat uncommon to most mainland piers, is present and willing to engage in combat with anglers.
This though would be a special trip to Avalon. The Cabrillo Mole had been closed for repair for over a year and between that closure and Covid-19 the fishing pressure had been light. Hopefully the absence of anglers has increased the number of fish.
Planning though had taken strange twists. Originally the goal was to be at the Mole immediately after its opening. I would go with Hashem and we would both fish the Mole while paying shorter visits to the Green Pleasure Pier where he would seek out lobsters while I concentrated on the fish.
But the opening day came the same time he was headed to Utah for some ice fishing. I could go alone but decided to wait until he returned. Then an illness in his family further complicated matters. I was getting nervous watching the reports of good fishing and wanted to join in but would wait. But, he said things should improve; how much notice did I need before going? Just a day or so. He finally called last Friday and said he had gone ahead and made hotel and ferry reservations. We would head out Monday morning and come back Wednesday evening. I would need to drive down Sunday for our Monday morning departure.
Saturday saw me quickly getting my supplies together. For bait, I bought about two and a half pounds of shrimp with heads on at the local Asian market to supplement the leftover squid I had in my freezer. I also called Big Fish in Seal Beach and ordered some ghost shrimp and bloodworms. But, they were out of ghost shrimp! What? I finally said save me four dozen bloodworms and some fresh mussels.
The drive down Sunday was quick, four and a half hours, and then I zipped over to Seal Beach for the bait (where I added a couple of dozen lugworms). The bait cooler was now full to the brim with bait and I now was seemingly set for Catalina.
I next checked into my dump (I mean motel); it would turn out to be the second worst motel I have ever stayed in (and so much for reviews on the Internet).
Given that I still had several hours of sunlight, I turned to a second goal for the trip, to fish the new piers at Pier J in Long Beach to add to my list (I've been stuck on 115 saltwater piers in California for some time). I headed down the Long Beach Freeway, took the Pier J exit, and then Scenic Drive turnoff which quickly took me to drive along Pier J and its rocky shoreline along with two new mini-piers of sort. Could I do a little pre-Catalina fishing? No, it turned out they were closed! All I could do was take some pictures of the piers and the scenic views (bay, ships and snow-capped mountains).
What next? I decided to head over to the finger piers that are found by the Long Beach marina. Unfortunately those piers were crowded and the fishing was slow. I finally decided to find some food and turn in early. However, I couldn't sleep, was up at 3:30 and down to the ferry landing at 5:30 not realizing that they now don't even open the parking gates until 6 a.m.
The early arrival did give me plenty of time for the normal tie-up ritual. The pier cart had its usual—bait bucket, tackle box, and container of miscellaneous items on the bottom. On top of the cart would go my bag full of clothes and my camera case. Three tie down straps meant everything was secured to the cart and I didn't have to worry about stuff falling off while getting on or off the ferry. The rods were carried in a separate rod carrier. Hashem too was early and since the ferry didn't leave until 7 a.m. we had a leisurely wait.
Finally it was time for the ferry ride to the island in which we were accompanied by a few dolphin. Upon arrival we sighted the rebuilt pier. We were off the boat and fishing by 9 a.m. Hashem was seeking out bonito while I sought out the sheephead that were being reported in big numbers.
Tackle was simple: three rod and reel combinations. A light outfit fitted with ten-pound fluorocarbon line for fishing the bottom, a second heavier outfit with 20-pound line also for fishing the bottom, and a reel and longer rod equipped with 12-pound line for top species like bonito if they showed.
The light outfit was set up with my normal high/low rigs with size 6 Mustad streamer hooks. I usually use simple baitholder hooks (sizes 8-4) but wanted to try the longer shanked streamer hooks with the worms and they worked well. I could easily run the hook through the body of the worm while using a piece of worm just longer than the hook.
I tried a variety of hooks with the heavier outfit including the same size 6 hooks, some size 2 baitholder hooks, and size 1 Kahle hooks. Naturally the bigger the hooks and bait the less bites. Surprisingly, the largest sheephead were caught on the number 6 hooks.
There was a logistical problem with keeping fish to take home. I wanted to take home a limit of sheephead and hopefully some larger bass and other fish. I had brought along Ziplock bags but I didn't have a way to keep the fillets fresh for four days. The motel room didn't have a refrigerator/freezer and though my bait cooler had ice it was totally full of bait.
A second problem was the possession limit. You are limited to one day's limit of fish even when fishing several days. Thus if you keep five sheephead on Monday you cannot keep any sheephead you catch on Tuesday or Wednesday.
I decided to roll the dice and only keep fish that I caught on Wednesday. As I fished I used up the bait and by Wednesday there should be room in the cooler for both fillets and ice. Of course I needed to catch some larger size fish on Wednesday.
In hindsight, what I should have done was to purchase a small Styrofoam cooler when I arrived at the island, fill it with ice, and keep the fillets in it until Wednesday when I would transfer the fillets to my bait cooler. Hindsight is 2020—duh!
Day One Fishing — 2/1/21
—
I would put in a full day of fishing. I fished the Mole from 9 a.m. to 3 p.m. and then, following a quick snack, from 3:30-5:45.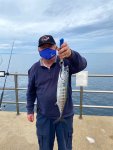 My only bonito of the trip​
It was strange weather. It was initially overcast and we had light droplets of rain for the first few hours. It wasn't cold but it was cool and we didn't see the sun until the afternoon.
I primarily fished on the southern half of the pier moving around as conditions changed. The giant kelp is largely gone, and you no longer have the kelp fronds to use as a barometer on the kelp, but different kelp is there, on the bottom and largely hidden. It will still grab your line and this is where the 20-pound test line proved able to often break free while the lighter line would be lost.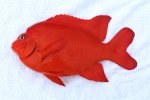 Garibaldi​
The number and mix of fish was good with a variety of fish being caught. My main goal, sheephead, showed in reasonable numbers but not what I had hoped to see. They primarily hit on the bloodworms and shrimp with about 2/3 preferring the worms. There was a steady bite on the other species throughout the day.
Hashem was getting an occasional bonito so I finally stopped to cast out a bonito ball and feather in search of the bonies. I got one but then my right shoulder and arm started acting up (a condition I've had for about a month). After maybe ten or so casts I would have to stop until the pain subsided. I finally just decided to stick primarily to the bottom fish.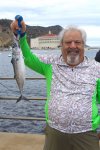 Hashem and a bonito​
One interesting scene was to see the "opaleye hunters" that were fishing the end and corner section of the pier. They were going nearly fishless. These groups come over almost every day on the ferry, usually three or four in a group, they only stay for the day, and have specialized gear and bait (moss and/or peas) for the opaleye. Most of the time they will limit out or nearly limit out on the opaleye. This year there were very few opaleye due perhaps to the absence of giant kelp by the pier. Monday saw two to three groups of the opaleye specialists and the same on Tuesday but none on Wednesday. From talking to locals it sounded like these groups would have done far better if they moved down to the quarry area where apparently the opaleye are still found in good numbers. I have never used their slip bobber rigs when fishing the Mole but always have done fairly well on opaleye using a simple high/low baited with peas or ghost shrimp. This trip I didn't have any ghost shrimp and only managed a few opaleye. You've just got to have the right bait and know how to use it.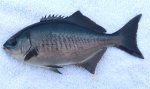 Halfmoon​
Cabrillo Mole: 8.25 hours — 82 fish — 186 points (different points different fish)
14 Sheephead
14 Kelp Bass
9 Garibaldi
9 Jack Mackerel
6 Pacific Mackerel
6 Blacksmith
4 Ocean Whitefish
4 Halfmoon
4 Senorita
3 Giant Kelpfish
3 Rock Wrasse
2 Scorpionfish
2 Pacific Sardine
1 Pacific Bonito
1 Opaleye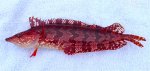 Giant Kelpfish​
What was interesting was that as it started to turn dark I pulled in four medium-size ocean whitefish in quick succession on my light outfit. They were further out from the pier but I didn't lose any to the kelp. And then, still using the high/low with size 6 hooks, I began pulling in jack mackerel, Pacific mackerel and sardines. The jack mackerel were all good-sized, the macks were mid-size, and the sardines were about as big as they get. They were apparently all schooling together and it was one or two fish time after time.
About that time Hashem was all packed up and set to head to the Green Pleasure Pier for some lobster (they're illegal at the Mole) so I stopped. But, it would have been very easy to run up some big numbers of the jacks and mackerel.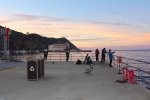 Sunset on the Mole​
We would then head to the Green Pleasure Pier, which for me has always produced more fish than the Mole. Nighttime action is usually slower since many of the Mole species sleep at night but there are always kelp bass, sculpin (scorpionfish) and a lesser mix of other species.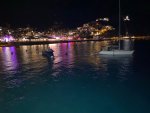 Avalon and its harbor at night (normally the harbor is filled with boats of every size)​
I would only fish an hour but it was the worst results I have ever shown for that pier. The tide was low with a very strong current that made it almost impossible to keep your bait near the pier and there was not even a nibble away from the pier. I finally managed a single sculpin but it was by far the strangest conditions I had even seen at the pier. There was only one other angler and he went fishless while Hashem went without a single lobster (of any size). I decided Tuesday and Wednesday would be devoted to the Mole.
Last edited: