The great majority of the halibut I keep have been females. But this one was definitely a male. He had recently dined on ghost shrimp. Not often I get to see what a halibut has eaten.
Got up this morning with one of those feelings. Change was in the air. We were between storms and the energy was still teeming. I checked my rigs and was very happy I did. The leaders were frayed and would have betrayed me. I planned to arrive at Point Richmond just before the top of the tide and fish the outgoing. Fastest water of the day, a good steady five-foot drop. The recent rains have muddied up the water and (I believe) have brought more brackishness to the Central Bay. Last week's bounty of bait (smelt, shiners, herring) has vanished. The good news is that some of the seaweed has been swept out by the tides and rain. (Four different types of seaweed to clog your line or muck up your lures. I know because I looked them up in my Audubon Pacific Coast guide.) I used a sabiki for quite some time to jig up only a couple of herring. I let the pole sit for 15 minutes on both those casts.. Crabs. Same as it ever was. The cold wind was picking up. One more foray at live bait for a last cast. Took a while to get another herring. Maybe another 10 minutes, then the telltale twitch and tug. I picked up the pole and waited for the "real" bite. Good fight on slippery rocks and all the time in the world. At 23 inches, it is is the smallest halibut I've kept this year, but I am in the mood for fish tacos during tomorrow's Oregon/UCLA game. Measured him four times to be sure.
I consider it a good job when I catch the bait myself, land and net the fish myself, and set the hook in such a way that keep or release is an honest choice. And even a smallish flattie in late October is pretty neat.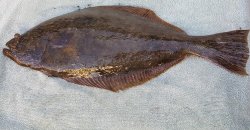 Friday 2021-10-22
Sunrise 7:25 PDT, Sunset 18:21 PDT
Moonset 9:21 PDT, Moonrise 19:40 PDT
High Tide: 2:05 PDT 4.8
Low Tide: 7:17 PDT 2.2
High Tide: 13:14 PDT 5.8
Low Tide: 20:02 PDT 0.1
Fish was caught just after 2pm. Outgoing tide but slack current.
23" Left-Eyed Halibut
Ugly Stik lite 7' one piece (renovated from stripped blank)
Okuma Avenger 3000
CXX 10# mono line
Sliding bait rig with 2oz ball and size 1 Owner SSW.
Live herring (5-6")
autumn halibut
took a fancy to my bait
so I took it home
Last edited: