I have been taking summer classes at the UC Davis Bodega Marine Lab, and given that the housing is right in front of the mudflats, it's an absolute no brainer to go clamming, especially given that I don't own a car.
7/16-7/17
This was the first time I attempted to seriously clam. I left at 7 am to catch the 8 am -1.1 ft. tide. Having scouted out the area during class field trips, I headed out to the area closest to the channel (where mud begins to transition into eelgrass). Washingtons were by far the most abundant, their "shows" were tightly packed, and I could have easily dug limits had I tried. However, I didn't exactly fancy paralytic shellfish poisoning, so instead I looked around for gapers. That particular part of the harbor didn't have very many gapers, probably due to being at a higher tidal height, but I still got 6 smedium-sized gapers. I also happened to accidentally unearth 5 Washingtons in the process, so those went in the bucket too. I called it by 10 am.
After enjoying a dinner of fried clam necks and fritters, I went out again the following day. This time, I went out at 8:45 am -0.6 ft tide. Washingtons were abundant as usual, and I could not avoid them digging for gapers. I dug 4, somewhat better size gapers and 5 more Washingtons. I had to work a little harder to find the gapers, given that the weekend crowd (including myself) thinned them out. I called it 10 am (again).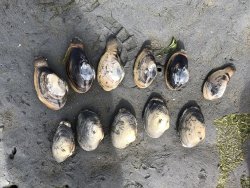 The first day's haul.
7/31
In between summer sessions, I was stuck at the dorms and had to get my own food since the staff had taken the weekend off. There was a borderline tide (-0.1 ft.) at 7:30 am, so I decided to make a quick run to grab some clams. I dug a quick limit of Washingtons (mix of both
Saxidomus nuttallii
and
S. gigantea
) and got out of there within the hour.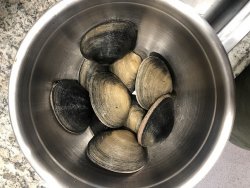 Not sure if I ever want to take this many Washingtons again... too slimy for my taste.
8/11-8/12
This time, I tried a different spot in the harbor, where I had seen many YouTube videos of people successfully digging gapers. The -1.2 ft. low tide was at 5:20 am, well before the legal time to dig/carry clamming gear, so I waited until I saw the sun just beginning to rise (6 am) and got out there as fast as I possibly could. After getting pretty badly stuck in patches of ghost shrimp burrows and mucking around in patches of sea lettuce, I finally made it out to the channel. It was pretty empty out there, with only two others out there clamming. It wasn't too hard to dig a limit of better sized (compared to the first time) gapers. Here, there weren't quite as many Washingtons, so I didn't accidentally dig any. In one area, there was very densely packed mud/sand, so dense that I broke my shovel right at the handle. Here, I did see something interesting that I'm still not too sure about: There was a pair of large siphons sticking out through a patch of algae, they were not fused at the tips, unlike the gapers and Washingtons, and were smooth. I didn't try digging them, but I think that might have been a piddock(?) I also grabbed a couple cockles and a littleneck that were just sitting on the surface. The tide started coming in quickly at around 8 am, pushing me off the flats.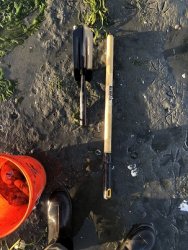 R.I.P. 2022-2022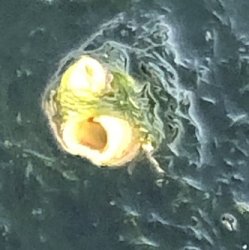 Mystery siphon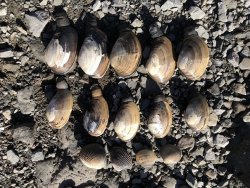 Not very happy clams.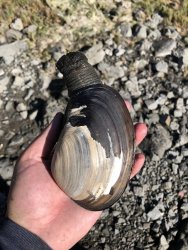 Somewhat better size, not huge.
After hearing of my success, some of my dormmates wanted clam chowder, so I did go out the very next day, this time with my roommate. We went out at the 6 am -1.1 ft. tide. We got spectacularly stuck in patches of ghost shrimp burrows and some particularly loose mud, but after regrouping, we headed back out to the channel. This time, there were significantly more people. A group of people brought a speaker and started blasting music, which was pretty annoying. After showing my roommate the ropes, we split up to maximize area covered. I moved to a quieter area that was also partially submerged, which made it harder to dig, but there were fewer people. It wasn't too hard to find gapers, but this time around I wanted some larger ones. We succeeded in getting limits of gapers, while my roommate also dug a small Washington. I also grabbed a couple more cockles I saw lying about. With nothing else to do, we headed in at around 8:30, well before the tide began coming in quickly.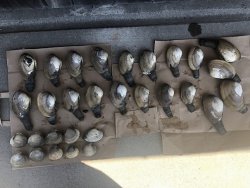 This fed 7 people with lots of leftovers.
8/13
Yep.
After making a big pot of chowder, I decided to try one last time the following day. "Crowded" does not even begin to describe the conditions out there. It was combat clamming, with huge open holes, broken clams, and dying ghost shrimp strewn across the flats. At a couple points, I fell into thigh-deep holes hidden under algae. I grabbed 7 gapers and a couple cockles before I decided I had enough of the BS and left. That night I had fried clam necks, while the cockles purged for one more day before being steamed with wine, butter, and garlic.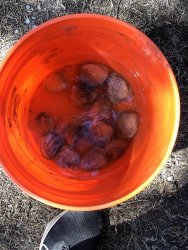 Much happier clams (until I steamed them).
Notes:
- I used a narrow-bladed trenching shovel, which let me dig vertically quickly, while minimizing hole diameter, which prevented the walls collapsing as much and did not damage the habitat as much.
- When digging, I dug off to the side of the show rather than straight down. After digging down a foot or two, I came in from the side and took off layers from the walls until I found the clam(s).
- As useful as a full-sized shovel is, I found that even a broken shovel or a trowel is sufficient as long as I dug efficiently. Especially towards the end, I relied mostly on my hands to clear sediment and dislodge the clams from sediment.
- A clam gauge is a must-have, as you cannot harvest cockles or littlenecks without one. On the last day, I was able to grab some cockles and littlenecks that people had dug up and left out since they were not carrying a gauge.
- People really do not care about this resource, I saw lots of broken and discarded clams, while they did not fill in their holes, creating walking hazards and also damaging the habitat.
- Washingtons are a pain in the neck to clean because of how slimy they are, while gapers are easier, except for having to blanch the siphons and peel the skin off them.