Took my sister and her family to the Mole on Sunday. Slow day by Mole standards but still great comparatively and my 5 year old nephew had a blast and caught over 10 fish, three of which he caught totally on his own.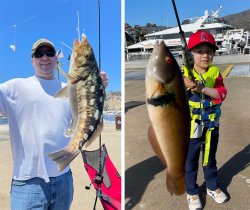 Most of the adults spent most of our time bottom fishing looking for sheephead, sculpin and whitefish. We were fishing an outgoing tide all morning and the fishing was very slow. We were mostly pulling in small calicos, ocean white fish, garibaldi, small wrasses, and quite a few small sculpin. My brother in law threw a 42g colt sniper for 30-40 minutes and got one bite but did not hook the fish.
About an hour after the tide shifted the bite started picking up and we started catching sheephead. My brother inlaw was fishing my favorite rod for the mole (7'2" 10-30lb, MH, Fast action). This rod is fitted with a 4000 size reel with straight 20lb braid. I feel like this setup is optimized for catching sheephead at the Mole. The smaller size sheephead (sub 16") have this distinct singular bite. This rod is sensitive enough to feel the bite and responsive enough with the braid to set the hook on those tricky singular sheephead bites. About 3.5 hours before high tide, our group started landing keeper sized sheephead (4 total all in the 13-15" range, 2 by my brother in law and 2 by my fishing buddy Duke).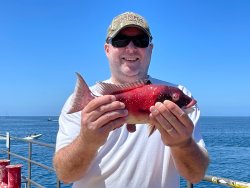 Something different for me was I was able to get on some kind of bait fish at the Mole. This was my first time successfully catching bait here. I was casting and jigging a tiny hook sabiki (size 4 Hayabusa) and caught 6 small to medium size horse mackerel. As I was bringing one of them it, it got off the hook and was immediately snatched up by a good size barracuda. I tail hooked one of the mackerel and dropped in down right near the pier one a carolina rig. 20 minutes later my bait runner reel started spinning drag. I set the hook but the fish had run into a rock or kelp. I got a bit impatient and snapped hook off and lost the fish.
Another exciting thing that happened was as my brother in law was reeling in an ocean white fish that he caught, we saw that it was being chased by a good size Yellowtail! He tried sending the white fish back out a couple times but the Yellowtail had left. For some reason none of us thought at the moment about fly lining the mackerel. That is definitely on the list for next time!
It was my sister's birthday so I am pleased that her and her family had a great time and are eager to go back.