Went on a full day trip aboard the Sea Watch out of Sea Forth Landing in San Diego. This was my first trip on an unchartered "party" boat and my first trip on this kind of boat targeting Dorado, Yellow Tail and Blue Fin Tuna.
We originally had tickets to go out on the San Diego. This boat change their trip itinerary mid week to the Coronado Islands which required a current U.S. Passport. I hadn't anticipated this type of change and original the trip was going to be offshore off of San Diego. They offered us an option to switch to the Sea Watch so we took it.
The boat baited up beforehand and we boarded and launched by 6:15AM. We road a couple hours out to our first fish spot and the plan was to kelp paddy hop looking for yellow tail, dorado, and blue fin tuna. On our second stop, we immediately got on a wide open Dorado boat. Instant chaos as shoulder to shoulder anglers started hooking up on Dorado. 90% of the anglers (including us) were fly lining live sardines.
I decided to rent a rod and this was my first time fishing on an open faced conventional reel. Tricky and frustrating at times but eventually I got the hang of it. I landed one big bull dorado on the rental rod and then switched to my own "see if I like it" conventional rig which is a KastKing Rover 60 conventional reel paired with a Daiwa Proteus Inshore Rod. I landed another medium sized female dorado on this rod and had more fun fighting the fish as I was used to the rig. My girlfriend also landed a nice sized female dorado and I was proud of her for landing the fish in such challenged conditions.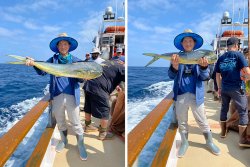 After about an hour of excellent Dorado fishing the bite started slowing down and then people started hooking blue fin. Both my girlfriend and I hooked blue fin. My fish took a huge first run and then broke off almost instantly as I closed my bale. I wonder if fishing straight braid to 20lb flourocarbon leader caused the breakoff because the braid wasn't able to stretch? The captain of the boat helped my girlfriend resolve a bird's nest, baited her hook and casted her bait. Almost instantly he hooked a blue fin and handed it off to her to fight. She bravely fought the fish for 30 minutes trying to hold her ground and make progress. Eventually the fight was too hairy for her to handle with all the other lines in the water and she handed the fish off to a deck hand. He got the fish closer to the boat but it eventually snapped the line. I think he was angrier that she was.
The bite continued to slow dow as we drifted off the kelp bed but the captain was still marking tons of fish and we could see Dorado swimming in schools in the water and jumping around the boat. Eventually the captain made the tough decision to move on after about an hour of seeing fish but no bites. Afterward he said that the Dorado moved from the kelp bed to under the boat. As the boat drifted and the blue fin arrived they were using the boat to shelter and hide from the blue fin and discreetly feeding off of discarded baits while they hid from the blue fin that were around but further away from the boat. I was impressed by the the captain who looked to be in his mid 20s. This was clever insight and explained exactly what we experienced with a wide open bite that slowly dithered into nothing.
I was very impressed with the captain and the crew. They worked their tails off getting 138 Dorado on the boat mostly during that first wide open period. With 4 young deckhands and the cook also doubling as a 5th deckhand, they gaffed so many fish, resolved snags, and kept people calm under crazy conditions. They also set a tone that encouraged the whole boat to work as a team and to be patient with themselves and each other. With all the crazy tangled and line crossing, there were no disputes and everyone went home with at least one fish.

The final count for the boat was:
138 Dorado
13 Bluefin Tuna
6 Yellowfin Tuna
1 Yellowtail
We enjoyed this trip. I've been out on a hand full of boat trips and other than a charter trip, this one was my favorite. My girlfriend and I liked this style of fishing enough that we are going to buy good quality gear for this type of fishing and improve our techniques with fly lining live baits and throwing top water lures so we can do better on our next trip. Another factor in this trip being the most enjoyable was that I figured out a way to be out on the water while feeling almost completely normal. Almost every other boat trip I had varying troubles with sea sickness. I used a combination of remedies to avoid sea sickness without feeling that drowsy feeling that you get from conventional sea sickness treatments.
Last edited: