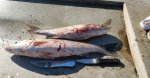 Unexpectedly on Sunday I got a green light from family for possibly last fishing trip for the year.
I came to the pier about 8 am and fished all incoming tide until water start to go out.
Fishing was very slow, no dingy bites - I spent just bag of sardines. The first fish took small piece of anchovy for family fishing next to me with very light tackle. I helped them to get it on pier and they presented me nice 18+ incher. I was going to leave when my pole bended and I knew it was another keeper, nice 20 incher came over the rail.
I called it quit and left to cleaning station when more and more ppl were coming.
Bait whole sardines
Tackle: sliding rig with 7/0 hook