Went with a friend to Two Harbors for a camping/fishing trip.
The leopard shark fishing in Cat Harbor was excellent on the first two days, with six fish landed between us and several more missed fish due to pulled hooks and snags. I also caught two brown smoothhounds, a new species for me. The round rays carpeted the bottom, and to avoid them we had to use large baits. My friend caught one of the biggest leopards I have ever seen in person. On the last day, we got only nibbles from round rays.
The fishing on the rocks on the frontside of the island with squid and shrimp on dropper loops was slow, with only a couple small whitefish and calico to show for our efforts. A diver reported seeing lots of large calico, sheephead, and even seabass, but apparently they didn't want to bite. My friend lost a very large bat ray on the last day, having come off due to a snag and subsequent pulled hook.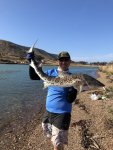 The first leopard of the trip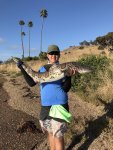 Another, heftier leo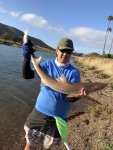 The tattered dorsal is the main feature I used to ID this as a brown smoothie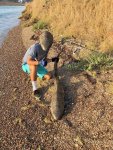 My friend's leopard (face obscured at his request)