Tried to change things up at Cabrillo Mole Pier in Catalina. Trying to shift our approach looking for a keeper Calico Bass and some bigger fish. I sized up my high low rig from size 6 to 1/0 and 3/0 circle hooks. My buddy Duke brought some live crayfish for bait.
Bottom line, it was the slowest day we've experienced so far at this spot. Not really due to our approach so much but other factors. Perhaps we are in that transition period between the colder winter and warmer spring and the bite was sleepy as the colder species like Sheephead and white fish are less prominent while the warm species have yet to really become more active.
When the bite really slowed down I went over to the left side of the pier and dropped my line into the rocks that are visible from that side. I caught three small sculpin there in fairly short order. The live cray fish got lots of attention but we did not see any real advantage over a big piece of squid. This might have been different had there been more big Sheephead around. We did accomplish our goal of a keeper Calico (Duke got a 14") and we caught way more Calicos than any other trip with quite a few shorts very close to the 14" keeper size.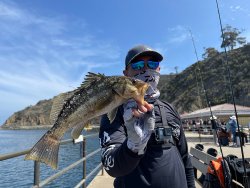 We also fished a couple hours after dark (left on 9:45PM boat). Duke caught a good size sculpin and we both caught quite a few decent size but short calicos. Best fish of the day for me was a 36" horn shark which bit on a whole squid that I had rigged on a 3/0 circle hook as the bottom hook of a high low rig. We also caught a fair amount of short Sheephead and white fish throughout the day.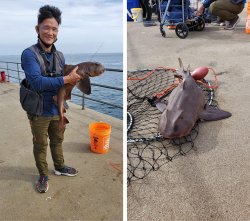 Did a few casts with a Hookup Bait tube lure tipped with squid. No takers on the lure. Probably too light to get down to where the target species for this type of lure would be hanging out. A couple fished with the same lures also for a longer stretch and got no bites. Also did 10 or so casts with a 42g colt sniper with no luck. Also did not see anyone else catch bonito on the pier. There were schools of small opal eye and a few larger ones. We fished a float both with a sabiki (to try to catch bait fish) and a couple smaller hooks with peas for Opal eye. We caught a few blacksmith on float rigs before deciding it was more exciting to keep fishing the bottom.
We saw lots of unusual small fish activity. There was schools of fast swimming bait fish breaching the surface of the water. As far as we could tell they were not running from predatory fish. We thought it may be grunion. Also close to sunset there was lots of small blacksmith that came to the surface and would slowly gulp air and go back down.
Here is a video of me fighting the Horn Shark and a clip after it was landed.