I talked to his wife Cheryl tonight and Mike is near death. He was in a hospice but has returned home and Cheryl said he only has a few days to live. Given his condition, they are not accepting any visitors. I wished her and Mike our prayers.
Mike will make the forth board member from UPSAC to die in the past few years — James Liu, Brian Linbarger, Boyd Grant and now Mike.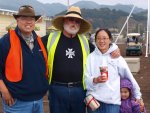 Pictured — James Liu, Mike Spence, Dora Liu, and Elaine Liu at the 2011 Avila Kids Fishing Derby.​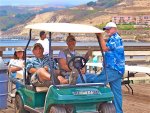 The UPSAC crew at the 2012 Avila Kids Derby — in the cart is Cheryl Spence, Brian Linebarger and Robert Gardner, standing is Boyd Grant