I spent a day fishing at Silverwood lake yesterday, joining a new fishing friend that I met when I went out for a salt party boat fishing off LB. He has invented a new style of rods and wanted to show it to me as well as his fishing pond.
It was a gorgeous day but despite my guess it was not too crowded to my liking. My friend was late due to a bad traffic so while waiting I was casting some random lures killing my time around the marina. I saw many pretty nicely sized bass just 3 yards away and some planted trout cruising around. Could not get them enticed on my lures/softbaits but my friend showed up so we hopped on a rented boat.
Unfortunately, we found the winds too high and for some reasons, the boat was missing any anchor. We tried targeting striped bass that lives in there but could not fish well. We moved and parked it on shore a few times to have lunch and cast some more but could not get any bites. During lunch, I told him about all the fish I saw earlier by the marina. We decided to head back earlier than we planned but try our luck just fishing from the shore near the marina.
We fished there together about an hour and half. Things started to get busy once I changed to carolina rig with powerbait. I took a quick limit then showed him and some kids around how to rig it before we left. There was an accident on water and I saw a heli transport on my way out.
All in all, it was a nice way to spend a Saturday.
This is the marina as I found in the AM when I arrived there.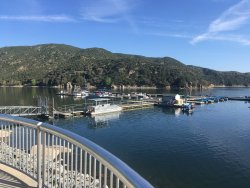 My friend being a skipper and just about to head out to open water now.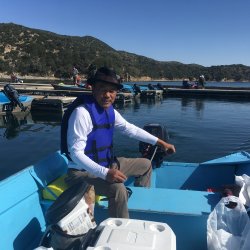 This is a rod he invented. It is a very unique one to say the least. We discussed about some technical pros and cons in depth when we were not talking about fishing itself.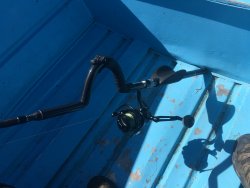 We parked our boat here and had a lunch/fish some.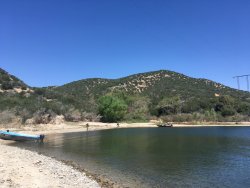 Some rainbow trout I managed to land....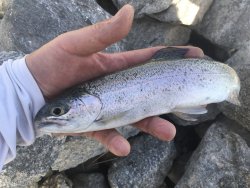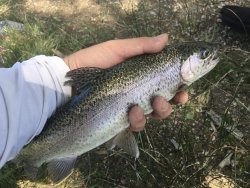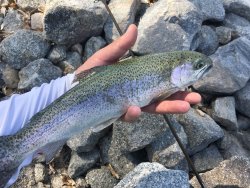 This is how this mountain lake look like from a vista point on my way back home.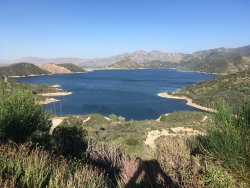 And some final excitement seeing a help coming down on the marina