Made a short trip to Los Angeles this week. Wanted to visit some old friends at the Fred Hall Show, check out the new reels, and hopefully do a little fishing. Luckily I was able to stay with Hashem and his lovely wife Jan.
Tuesday, following an excellent lunch, we headed over to Fishermen's Village and the Marina Del Rey Sportfishing docks. The docks allow fishing for a fee and you can use all the live bait you need. Unfortunately, all of the live bait was gone. Why? An employee explained that a group of Buddhists had visited over the weekend and bought all the anchovies and sardines in the holding pins and released them into the bay. The cost? Several thousand dollars. What were the boats using for the rock cod opener? Squid and they apparently had tremdnous success the opening day.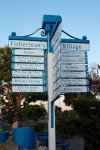 Wednesday saw me running some errands with Hashem followed by lunch at the Chicken Dinner Restaurant at Knotts Berry Farm. First time I had been there in 52 years. Still good food although not as good as I remembered it (and that often seems to be the case).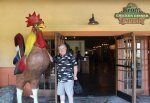 Then we went to the Fred Hall Show with its plethora of eye candy booths (tackle and trips). Given that I don't really need any tackle (or have the money for the trips), it was, as usual, somewhat of a simple sight seeing expedition. I did check out the reels but nothing really looked too different even though the prices keep going up. The highlight for me was seeing some old friends including Paul Labowitz (editor of Western Outdoors), Shawn Arnold (editor Fish Taco Chronicles), Steve Carson (Penn Reels), Carrie Wilson (DF&W), reel expert Alan Tani, and several others. Always good to see old friends. I had wondered if the corona virus would impact attendance but it certainly didn't look that way the first day. However, hand shakes were out in favor of fist bumps and Shimano decided to cancel their booth at the last minute—so there were some impacts.
Biggest surprise was being given a certificate for two fares on the Gentleman, the 3/4 day boat out of Channel Islands Sportfishing in Oxnard. The certificate, worth $150, will be used to take my grandson on his first deep sea Sportfishing trip. I had planned to take him out this past fall for a Bay Area combo rock cod/crab trip but we had to cancel it.
Thursday was a day to go down to the Balboa Pier and see Snookie and her group. We didn't get there until 11:30 and it turned out she had to leave at 12:30 to go to choir practice so it was a short visit but fun as always. She was dressed in purple with a fancy hat and lived up to her maxim that a fisher lady always has to remain a lady.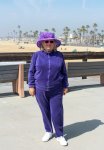 Snookie​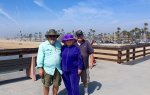 Hashem (Mahigeer), Snookie and KJ​
I did get to fish a little. Unfortunately the halibut weren't hitting on the heavier rod but the light combo produced 1 corbina and 8 walleye surfperch in the surf area in 1.5 hours (all on a hi/lo with no. 8 hooks and blood worms as bait. Headed out to the end after Snookie left and did a little more fishing in between a tasty hamburger at Ruby's. The end area produced 3 Pacific mackerel and 2 topsmelt in .5 hours (same rigging and bait).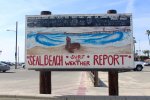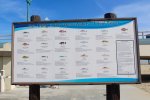 Signs by the Seal Beach Pier​
After lunch we headed over to Seal Beach because I wanted some fresh pictures of the end area of the pier that was finally reconstructed (after several years). Very disappointed that they removed the old areas on the sides of the pier that contained the long benches but the end area is finally open and fairly large. No benches at the end, metal railings that are too slippery for rods, and no fish cleaning table at the end. It's really too bad they didn't consult anglers on how to make the pier more user friendly.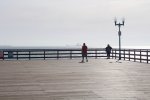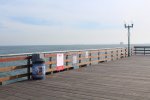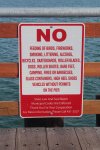 It was windy and the water looked a little nasty but I fished the end area for for half an hour with nary a bite. Finally the wind was getting just a little too frisky so we headed in by the lifeguard station.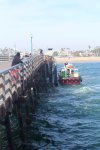 An additional half hour produced 1 sargo when fishing inside the concrete wall on the west side. One hour in total produced that lone sargo on hi/lo with blood worms.
Friday saw me heading out after paying a visit to Ginny at Wylies Bait and Tackle in Malibu. She's one of my favorite people and as a result her shop is one of my favorites. I got there early but as usual it was hard to get away since one story was followed by another story followed by another story. Nevertheless, I needed to head home. But I still had a few worms left so I headed over to the Malibu Pier where 1 hour produced 20 walleye surfperch and 1 lone speckled sanddab. Once again a hi/lo rig with size 8 hooks and worms as bait. I did try the heavier rod but it didn't yield anything even though I tried a small walleye for bait.
Nothing big but I just wanted to go fishing since I've been stuck in Fresno for several months with a variety of issues. At least I can still catch a few fish even if this trip didn't produce anything of note excepting the corbina and sargo (which are always fun to catch).
Traffic was amazingly good (just a few bad spots) so I was back in Fresno by 4:30 and unpacking the bags and fishing equipment.