Tuesday afternoon would see a visit to Candlestick State Park and Pier. Unfortunately, what should be an oasis of nature within an urban setting is showing a lack of upkeep and attention from the state's end with some areas needing repair and attention. The smaller pier is closed as is the road to that pier, apparently by a huge influx of homeless. The entrance via the northern streets was unmanned and free but buildings show decay and rust not to count the graffiti found in many areas. Last but not least was the entry to the pier itself, the steps to the pier are dangerous and the nearby restrooms, once a nice area, are now locked and rusted shut with portable outhouses serving as restrooms. Given the multi-billion dollar surplus the state is reporting you would think a little money could go to state parks such as this (if anyone cares). My thought as seeing this was like greeting an old friend who obviously had seen some hard times: sadness.
Open 8-5, no lights, no fish cleaning sink, and a limited number of trash cans.
The good news is that fish were being caught. Most anglers had two rods, one being used on the side of the pier for jacksmelt, and one being used at the end for halibut. Although I was only there a short time I saw one halibut lost at the net as well as the capture of a nice 35-inch fish (by Thanh). Numerous jacksmelt were being caught. One again I was too stubborn to fish for the smelt and I didn't have the right pole for the halibut but it was my own fault. My only fish was a large staghorn sculpin. I tried to talk to the regulars but only found one person who spoke English, the rest spoke Chinese. Amazingly he has been fishing there a long time and when I showed him some pictures from the web site (including one that showed "Stan the Man" with three halibut) and he mentioned that he remembered Stan and the fish he used to catch. He tried to introduced me to "Papa" one of the most successful regulars but our inability to communicate due to language prevented what I am sure might have been some good stories. (I need an interpreter for some of these Bay Area piers).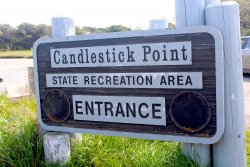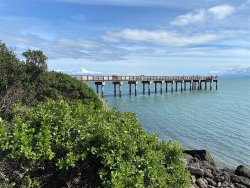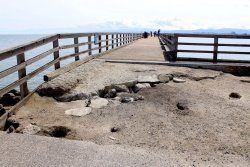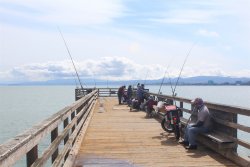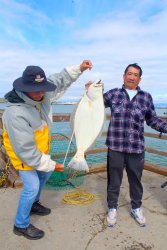 Thanh and his 35-inch halibut.​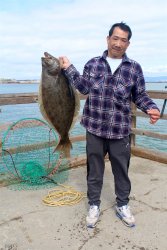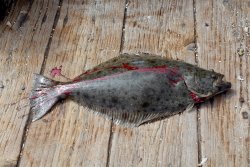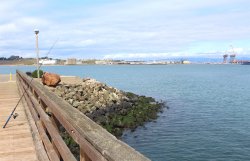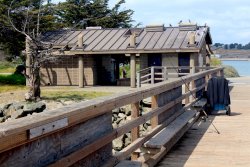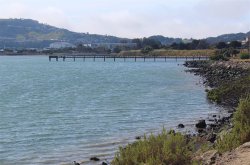 The pier near the old entrance to the park is now closed.​