Headed down to SoCal to see my friend Ed at the Oceanside Pier Bait Shop before he leaves (the shop's being sold). Naturally, any trip south should include a little fishing...right!
I left Fresno at 8 a.m. Tuesday and it was smooth sailing all the way—even in LA! I stopped in Dana Point at "Hogan's Bait and Tackle" to pick up some live worms (only lug worms unfortunately) and then headed the final miles to Oceanside. Checked into my motel and then headed down to the small pier in Oceanside Harbor. Midday with a bright sun is not my preferred fishing time but I had a dinner arrangement with my son Mike who lives in Carlsbad so figured I would get in a little fishing before our meeting.
Oceanside Small Craft Harbor Fishing Pier — 7/14 — 3:00-4:45 p.m.
The pier had a number of people, most masked up and relatively good social distancing but no bites and no fish, in fact I didn't see any fish caught while I was there. Other than spotting a few small garibaldi cruising around the inshore rocks I didn't see a fish. I left hoping this wasn't a harbinger of things to come.
Oceanside Pier — 7/15 — 6:30-9:30 a.m.
27 Pacific Bonito
8 Pacific Mackerel
4 Salema
I had heard the bonito were biting at the big pier so wanted to fish a few hours before meeting with Ed. Arrived a little later than I planned and headed out to the end where I found the railings already somewhat crowded; I politely joined the crowd. Soon after, I was joined by Bill from the bait shop. He had supplied the information on the bonito and often gives me the pier's monthly report.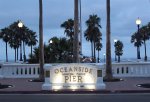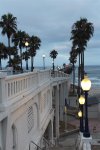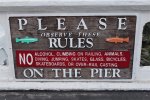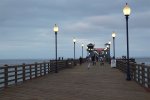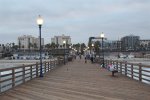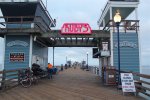 People were catching bonito and mackerel and almost everyone was using bonito balls with a trailing feather and that's what I rigged up. Sure enough there were bonito but they were mackerel-sized, micro-bonito. However, still fun to catch on a fairly light rod so I proceeded to join in catching the fish—mostly bonito but also some mackerel (that were mostly as big as the bonito).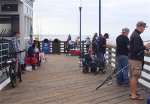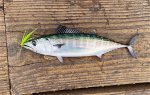 My first bonito​
I am always concerned with people going over the limit when these small bonito show up but would be surprised. One guy was using a Sabiki and I saw him pull in three bonito and I walked over and said, "looks like you've already almost got your limit of five" (of this sized bonito) and he said yes he knew and that he was going to switch over to a ball and feather.
I listened to the anglers and watched most bonito being returned to the water and was somewhat amazed. It was the first time I can remember where anglers were catching bonito in quantity and following the no more than five bonito under twenty-four inch rule. Their conversations convinced me they knew the rule and obviously were following it. They kept the mackerel but returned the bonito.
Eventually, with my shoulder and arms aching, and wanting some variety, I took a slight break and rigged up a high/low on my light rod. I dropped it to the bottom, cranked up a few feet and sure 'nuff there were some salema. I continued catching bonito and mackerel and hated to stop at 9:30 but needed to see Ed (the main reason for the trip).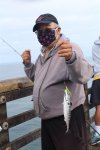 I headed down to the bait shop where we spend a couple of enjoyable hours discussing what we had done over the years (kids derbies, monthly reports, and advice on several matters). Met the new owner and gave him my opinion about the shop, "basically don't change anything, you've got a money maker the way it is." I finally left hoping I might get one more chance down before Ed picks up his motor home and heads out to enjoy retirement.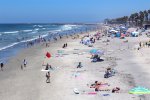 The beach at Oceanside​
Last edited: