What had been envisioned as a short trip to the bay with my grandson turned into a solo journey last Friday and Saturday in hopes of some decent fishing (and fish). I was largely disappointed but did manage a few fish.
Friday I headed out in the morning from Fresno with the first stop planned to be at the Santa Cruz Wharf where reports said the "mackerel" were running. I was looking forward to the cooler clime along the coast since Fresno was projected to be around 107 degrees.
I headed up HY 99, took the left turn to Los Banos, stopped for a breakfast sandwich, and then headed out again. In a short time I made a quick stop at the Main Street Market in Santa Nella to pick up some pile worms (great quality worms but very expensive) and then headed on to Santa Cruz via Gilroy and the Watsonville turnoff.
I got to Santa Cruz but was surprised that the car's thermometer was reading 90 degrees for outside. Sure enough, it was hot on the wharf with the sun blazing down and being reflected off the water. Even worse, Tina at the Santa Cruz Boat Rental (on the wharf) said that unfortunately the mackerel run had stopped and the halibut bite had slowed down. But anchovies were available. I hadn't traveled to Santa Cruz for anchovies!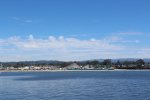 As it turned out the usual small species were available but little else. Fishing in the wells out by the end did produce a number of white seaperch (which sort of saved the visit) and a number of small, juvenile rockfish including some blues (common) and a reddish species that I thought was probably a juvenile vermilion (but I wasn't sure).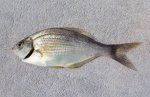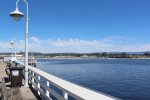 Santa Cruz Wharf — 12:00-2:30 p.m.
11 Speckled Sanddab
6 White Seaperch
3 Shinerperch
3 Northern Anchovy
2 Blue Rockfish
2 Rockfish (either vermilion or sunset rockfish according to Milton Love at UCSB).
2 Staghorn Sculpin
All fish caught on a high /low with no. 6 hooks and a one-ounce torpedo sinker.
All fish released.