Went back to Cabrillo Mole Pier in Avalon this Saturday with Hermelinda. This is the first time in a while that the two of us went alone. I was looking forward to it because some of my best days fishing there had been with just the two of us.
We decided to take a later boat out and leave on a later boat to sample the bite that happens during sunset. On previous trips we had notice the bite picking up just as we had to leave on the 6:30 boat. This time we left on the 8:15AM boat out of Long Beach and returned on the 8:00PM boat.
When we started fishing, I noticed that the Sheephead bite was better than previously. Actually I'm not sure if the Sheephead bite was better or if there was less interest from the smaller wrasses and reef fish. The bite overall was slower. We noticed for the first time in a while you had to wait 30-90 seconds before a bite after dropping all the way to the bottom. In all previous trips the bite would happen almost immediately. These factors contributed to a larger amount of Sheephead caught for me on this trip.
For the past few trips, Hermelinda has mostly been fishing with squid. Although the worms and shrimp get bit faster, hooking fish with those baits is trickier. Today we noticed that the squid was generating fewer bites than on previous trips. Because of this, Hermelinda caught fewer fish, but she made up for in with interesting catches. Because her baits were soaking for a longer time, she caught a couple good size scorpion fish. Both were her personal best catches from shore and the biggest one may have been her personal best overall. She also caught a moray eel which was exciting.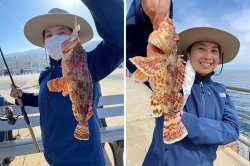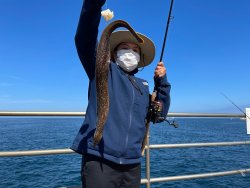 This is the first time that I began to understand how casting distance factors into the species that you are able to target. Farther out (40 yards and beyond) the terrain gets less rocky. You get fewer snags out there and the dominant species at the bottom is ocean white fish. Closer in (20-30 yards), there are more rocks and kelp and that is where you are getting more sheephead and sculpin. This is also the area that can be dominated by smaller reef fish like rock wrasses, senorita, and kelp fish.
I ended up limiting on Sheephead with the largest being close to 16". I released a 13" sheephead and was gifted about a 14" fish by a new friend that I met on Facebook who was there on a two day trip and not keeping fish on his first day fishing. Also caught more short sheephead than on the last couple recent trips. Second dominant species on the day was ocean white fish. I was able to keep my numbers on them lower by limiting my casts to 25-40 yards.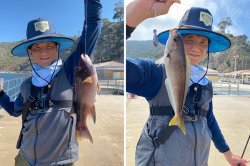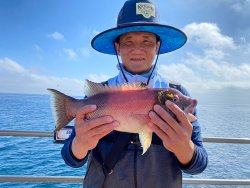 My most interesting catch of the day was what looks like to me an orange sea cucumber. I doubled up with it and a small calico bass. As the day wound down, the fishing slowed down. I did catch more bass towards the end of the day but they were all small. I took about an hour break from fishing to clean fish. I would love to figure out a way to passively fish the mole, so I didn't feel like I was losing fishing time while I clean fish. For the last few trips its been difficult to passively fish. The pole that I'm not actively holding catches very few fish. If I hook a fish, it often runs me into a rock or kelp before I get a chance to put any pressure on the fish. On my next trip, I'm planning to stay even later and will catch the last boat back at 9:45PM.