Fished with a friend during 8am-6pm in the mid pier section mostly. Annual summer camp children swimming around the pier made us busy not to snag big accidental by-catch. There was a capsized boat nearby which was the talk of the day.
There were plenty of bait fish but could not find halibut on livebaits nor seen anyone else finding one. Some small rays were caught by neighbors on squid. Yellowfin croaker action was constant throughout the day on high-low rig with shrimp or mussel.
By-catches on sabiki rigs were the funnest part of the day for me. Topsmelts, anchovy, and occaisional pacific mackerel were there all day. A school of salema hit the midsection in AM. In PM, a different type of anchovy hit a sabiki rig. Are these deepbody anchovy (Anchoa Compressa)? Used for halibut bait but they did not stay alive long...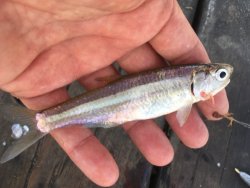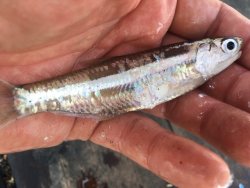 Last edited: