Hit the pier with my Wife and Son in the early afternoon. The pier was busy, lots of tourists and lots of people fishing. We found a spot on the rail near the Dolphin and dropped our hoops and lines.
A sabiki dropped straight down yielded small shiner perch and baby bocaccio with relative regularity. Adding a bit of shrimp and casting out to work the sabiki back yielded Jacksmelt on occasion. The smelt seemed to be cruising up and down the pier as they normally do. Most smelt landed were 5 to 8 inch range all returned expect 2 or 3 who were damaged when hooked, those were used for bait. My son managed to land a big smelt (about 14 inches) which was gifted to a neighbor looking to have a meal.
Mixed among the smelt was what appears to be a coho smolt. This fish was minimally handled and returned to the water asap so the photo is not the best. If this is indeed a coho, this bodes well for the area IMO. Maybe they can make a comeback? Maybe the conservation efforts are working?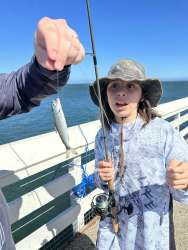 A few hours in to the session, a school of small blue rockfish moved in to the area and we caught 8 or so in the 5 to 9 inch range, all returned. My son managed another interesting catch, a 15 inch lingcod.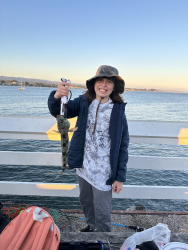 This ling went for the baby boccacio that my son had hooked initially which was still kicking in the toothy jaws when we landed the ling. The ling proceeded to lose the rest of its stomach contents which included a mostly digested small rockfish and a mostly intact shiner perch. The ling was returned after a few photos.
Our hoop nets yielded mostly slender crabs and hermit crabs. One big red rock crab did come up but it had no claws and was a female so it was returned.
Despite the wind and swell we made a day of it. Though there was nothing for the pot or pan we came home with some great stories which are the best thing to bring home when you go fishing.