I have been fishing pretty hard the past 2 months and would like to note that for the amount of bait that I've been seeing, which has been pretty insane with birds diving most mornings on several different beaches I've been at, there have been no striper caught. I gave up after about a solid month of getting skunked going mornings and evenings on high tides and low tides for striper and switched to halibut.
The halibut fishing has been, meh at best. Ive caught around 5 shakers all around 16-18" on drop shot rigs with white colored 3" grubs or 4" white swimbaits. I've been talking to a lot of people who I have also seen regularly on the beach and everyone who has been looking for striper are pretty much saying the same, haven't seen any striper ranging from south of half moon bay to Monterey.
Don't have any pictures but i did land a ray that was about 26" across but threw him back, only reason i didnt want to break off was because i thought it was a white sea bass but quickly threw it back, snagged on a white grub. Also snagged a plug which was pretty awesome. Thinking of just going back to perch fishing because at least then i could get some kind of action... Also to note that the swell this year hasn't been the greatest and in my opinion it seems like the lack of rain has something to do with the lack of striper.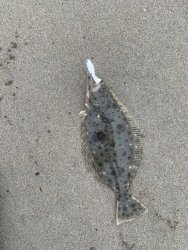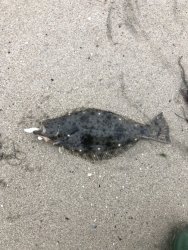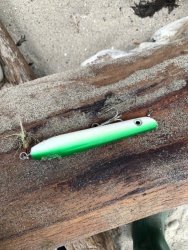 Last edited: