Arrive around 7AM and started fishing for bait. Bait bite was sleepier than I remember it ever being here. No Mackerel and even the smelt were shy about biting. I did catch about 7 good bait sized smelt. I fished a few on these on a carolina rig in various spots around the end of the pier. No takers on the live bait. I also hooked a wall eye surf perch, a salema and a small calico bass while fishing for bait.
I found a decent bite casting out to the reef off the end of the pier with a hi-lo rig and a combination of size 8 mosquito hook and size 6 bait holder hook with pieces of market shrimp. On the day I caught 2 short calicos, 1 very good sized rock wrasse, and 2 black perch with this setup. I broke off my original set up which had 20lb leader on some kelp and quickly replaced it with the same hooks on 8lb leader that I had previously setup to fish for Opal eye on another trip.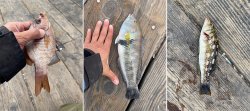 On my last cast, I hooked a decent sized fish and when I got it to the surface I realized it was a keeper sized sheephead. Wary of the ability of the 8lb test to get the fish over the rail, I asked the gentleman next to me who was drone casting to hold my rod while I got my hoop net. Having not been used for many trips, my hoop net rope was tangled so with the help of two other observers I detangled the hoop net rope and netted the fish. Was grateful for the help of 3 other people to land what turned out to be a 15" Sheephead.
Fished with a buddy of mine who also caught a black perch and a small yellow fin croaker on a sabiki rig baited with shrimp. Another angler caught a medium sized spot fin croacker on a dropper loop with mussel.
Was able to talk more with the drone casting fisherman who was mentioned in Ken's previous post. He uses archival photos from Google Earth from 2013 on a day where the water was exceptionally clear to get a sense of where the reef structure is around the pier. He then sends his drone out up to 1400 yards to cast a dropper loop with a grub style swimbait coupled with a pieces of cut bait. Today he was using shrimp. He then slowly retrieves his rig dragging it across the bottom all the way back to the pier. He's caught a number of good fish with this method including a 21" sheephead and some similarly sized bass. In his experience when the fish are biting they will bite right away and he usually gets the bite around 400 yards away from the pier while retrieving. If he is unable to get a bite in the first few casts he leaves. Almost reminds me of the mindset of someone fishing from their own boat. He is just using different methods to cover ground and look for a wide open bite.
Nice to have an enjoyable and productive morning at my favorite mainland pier
Last edited: