Arrived at 6:30AM and went to the end. Fished mainly hi lo rig with size 8 and 6 hooks with market shrimp and blood worms. Bite was slower than usual perhaps dampened by the rain the day before. Also fished a bit for live bait and threw a small smelt out on a split shot rig.
Most productive combination was casting the hi-lo out to the reef. Ended up catching:
1 Sand Bass
2 Leopard Sharks
1 Sargo
1 Blenny
1 Black Croaker
1 Giant Kelp Fish
1 Yellow Fin Croaker
3 Salema
12 Jack Smelt
Girlfriend added a yellow fin croaker of her own before she left early at 9AM. I packed up and left at 11:30. Most fish with the exception of the sargo bit on the shrimp. Sargo took the blood worm. I got one good bite on the live smelt. Fish grabbed the bait and took off on my bait runner style reel but dropped the fish before eating the hook.
No other fish were caught at the end but most other anglers were throwing big baits for thresher sharks. There was another couple fishing hi-los and sabikis. They got a couple bites but did not land any fish. No sign of mackerel or bonito.
I saw a medium sized spotfin croaker being cleaned by an angler at the cleaning station inshore.
Fun morning and always fun fishing this pier because of the variety of catches fishing the reef at the end.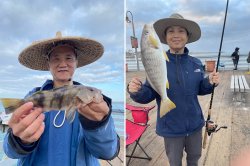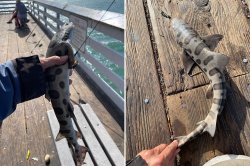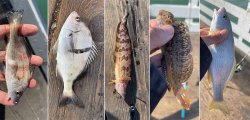 Last edited: