We met my Dad and a friend and her son at San Clemente Pier on a Saturday.
My girlfriend and I arrived early around 5:45AM. Our guests arrive around 8AM. We set our friend's son (Cyrus) up on a 4 hook Hayabusa size 4 sabiki rig with a slip float. Each hook was baited with a small piece of market shrimp. He started catching smelt and ecstatic. It was a challenge for me to assist them both who were brand new to fishing while being peppered with questions by Cyrus about everything from fish identification, to tactics, to stories about his interest in fishing and the things he watches YouTube about fishing and also try to get some fishing in myself. Cyrus ended up catching 3 smelt and a black surf perch.
The bite was slower that usual because the area between the reef and the pier produced very little action. This is the area where we usually catch smaller yellowfin and spotfin croaker but other than one small yellowfin croaker, there were no other fish that were caught in this area. My girlfriend had a slow day of fishing as she usually targets this area. She also tried fishing the pilings and added a couple wall-eye surf perch to the total. My father was busy on the north side of the end of the pier working a 6 hook sabiki rig at different depths and catching plenty of smelt and queen fish. While I was showing Cyrus how to clean the fish, his mom hooked up on a huge jack smelt.
For my part, I was able to catch a rock wrasse, senorita, 3 black perch, a 10" calico bass, and my personal best octopus. This octopus was large enough that we had to use a hoop net to get it up to the pier. It was such an involving task as an octopus isn't contained that well in a hoop net with larger mesh size. Secondly once the Octopus got near the pier it latched onto the pier while still in the net and still on the outside of the railing. We had to manually un stick it's tentacles one by one so we could get the net over the railing. Before we could get it over the railing, the Octopus slipped through the mesh of the net, snapped the leader on the rod, and self-released.
My Dad made an early exit around 11AM and the rest of us stopped fishing by 1PM.
It was nice to introduce pier fishing to a couple new people successfully and nice to have a warmup for our trip the next day to the Mole in Catalina.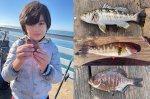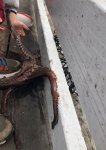 Last edited: