San Clemente 12/30 - Post Rain Skunk
:
Went to San Clemente on 12/30. Fished from 4:30AM until 9AM. Fished my regular small hi-lo rig with shrimp and lug worms and a larger fish finder pole with chunk of shrimp. A day with tons of red kelp covering the rigs. I would reel in and my bait would be missing but I was not feeling any bites. I even fished a setup with a float sabiki and could not get bites. While I was there one small walleye perch was caught on a lug worm and I heard that fishing was better mid pier but I did not see any fish caught there either.
I did hook up on something small by slowly retrieving my high low setup and something hooked up briefly as I got close to the pier. Unfortunately it shook itself off before I landed the fish.
I've never fished this close to a significant rain. I would blame the bad day on the heavier rains the area saw on Monday.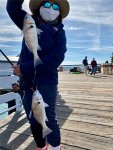 San Clemente 1/2/21 - New Year Comeback
:
On 1/2/21 I went back with my girl and, prompted by my tough outing earlier in the week, we brought a bigger selection of bait. We had our regular live blood worms, and market shrimp and added frozen squid, and fresh mussels that I foraged from the Bolsa Chica inlet the night before. We arrived at 5:30AM and I fished until 1PM, stopping to clean fish for the last hour while my girl fished an extra 45 minutes.
We caught 28 fish total (14 each). The breakdown was as follows:
9 Spotfin croaker
5 Yellowfin croaker
4 Walleye surf perch
3 Queen fish
3 Jack smelt
2 Scorpion fish
1 Black croacker
1 White perch
Her first fish of 2020 was a queen fish. Mine was a scorpion fish (my first one ever). She caught her first black croaker ever.
The morning was slow. She caught a queenfish just as the sun was rising and we were getting a few bites but nothing committed. We were both fishing hi lo rigs initially with shrimp and blood worms. I caught the scorpion fish, two in quick succession on blood worms around 6:30AM. The rest of the morning was peppered with interesting albeit smaller fish. She caught a black croaker at 7:30AM and a small yellowfin croaker at 8:15AM. I caught a white perch at 9:40AM and our first spot fin on 10:17AM. Today was the only one of two days that I can remember that market shrimp seemed to be a less effective bait. I fished a whole shell on shrimp on a larger fish finder setup and it got no attention. We switched that larger setup to a whole squid and it started getting bites. I caught the first spot fin on this setup as it kept testing the whole squid and finally committed hard enough for me to hook the fish. Interesting thing about the squid was the most popular part of the whole squid was the head. Once the head was bitten off, the bites would slow down and I often switched bait after the head was missing. But hooked by itself, the head got no attention.
It was fun catching the croaker. They were swimming in the sandy area between the reef and the pier of the end of the pier. We caught most of them in the center of the end. They like to grab the bait and run towards the pier. This creates an interesting challenge to keep enough tension on the line to set the hook. I stopped fishing at 1:15PM to start cleaning our fish. This was four small to medium small spotfin croakers that I had caught throughout the late morning and early afternoon. This is when the real fun started. As I started cleaning fish, my girlfriend began hooking up on all 5 spot fin croakers she caught on the day in the last 30 minutes of fishing. All were caught on blood worms. The most exciting was doubling up on her hi lo rig with two nice sized croakers. The fish were two heavy for her to get over the rail so a regular at the pier help get them to the deck by hand lining them over the rail. Even though I wasn't catching the fish, the high that she was feeling hooking up on so many nice fish, so quickly was contagious. She also doubled up again on a nice size spot fin and a walleye.
Other fish that were caught while we were fishing: a family on the right caught a huge jack smelt and another family and a father son were also pulling in smaller jack smelt getting their kids the first taste of catching fish. We saw a mackerel caught mid pier but I tried to find them with a float sabiki and there were not to be had easily today. Another couple small yellow fin croaker were caught by some of the shark crew waiting for sharks to bite their big setups. My girlfriend left the end and tested the other areas of the pier working her way all the way inshore but did not get significant action anywhere else.
Had such a wonderful feeling after this trip! I was basking in the excitement of it for hours afterward just appreciating how much I am enjoying fishing and how grateful I am for the experiences I am having.
Happy New Year Everyone!
Last edited: