Got to the pier around 4:30AM. Attached my weights and threw out. Had a big piece of shrimp on a dropper loop that I cast out on the right side with a 3/0 SSW Hook. This rig got no action all morning. My smaller setup was hi-lo: size 8 mosquito, size 6 bait holder. Bait holder had half a live bloodworm. Mosquito had a piece of shrimp. There was intermittent very light rain which made for a cold morning.
I caught a small sand bass on the live blood worm to start.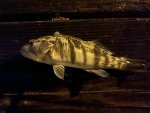 Bite was slower than the last time I was here but I was still getting occasional nibbles. An older Vietnamese gentleman who just moved to Southern California from Texas showed up around 5:30 and started catching mackerel on sabikis. Like the last time I was here the mackerel were biting regularly and they were good size. To get my bite mojo warmed up I did a slow retrieve on my high low setup, just fast enough to swing the weight off the bottom and hooked up on a nice sized mackerel which I gave to my new friend.
Then I hooked up on something big. It but the biggest bend that I have ever experienced on my smaller setup. I horsed it just a little to much and bent my mosquito hook just enough that the fish came off. As I finished reeling in I saw a couple mackerel chasing what was left on my bait but no sign of what that larger fish was. My guess was a decent size sheephead as the fight felt heavy but not like a bass and the fish bit on shrimp. Still thinking about that fish and what it was.
After this I started dreaming about better action inshore so I moved to just beyond the lifeguard tower. No bites here except smelt. I hooked up on two larger smelt but could not see evidence of any other fish and fishing this shallow of water but not being able to avoid the smelt was frustrating. I hooked a smaller smelt and threw it out on my larger dropper loop setup. No bites on this.
Still trying to find the ideal type of fishing for these mornings where I am time constrained. Haven't quite found a rhythm yet for these short 3-4 hour windows. They seem to go by so fast. Maybe I'll try to hit the surf next time. I have yet to catch a barred surf perch.