Spend two mornings fishing San Clemente on Saturday and Sunday (1/7 and 1/8). Both days I rotated between fishing a small hook sabiki for bait, a medium casting hi lo and a long casting hi lo. By far the most productive setup was the long casting hi lo (Shimano 4000 Baitrunner paired with a 12' Daiwa Emcast). I really like the combination of the long casting with a bait runner feature. The setup works better in this use (casting cut bait on a hi lo) than throwing lures for bonito because the awkward ergonomics of the rod are not as tiring. Without this setup I think both days would have been slower for me.
I would characterize both days as sleepy bites perhaps because of winter or the recent rain. Also there is plenty of loose macro algae in the water so it helped to check the lines if I wasn't getting bites to clear them of macro algae/kelp and to freshen the bait. All fish but one was caught on pieces of market shrimp. I sized my hooks up to size 4 and 1 and 2 Kahle hooks on the long casting setup. This resulted in fewer small fish hooked.
Saturday was the better day. Only bait fish that seemed available were wall eye surf perch. I caught 7 species on the day.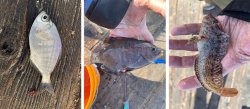 Total fish count:
2 Black perch
1 Blenny
1 Leopard Shark
1 Moray Eel
1 Smooth Hound Shark
2 Sand Bass
15 Walleye surf perch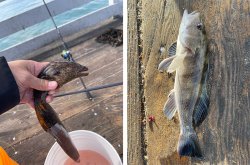 All fish but the walleye surf perch and the Blenny were caught on the long casting setup. Two anglers next to me caught walleye perch, blue perch, and a large moray eel that broken them off right at the surface.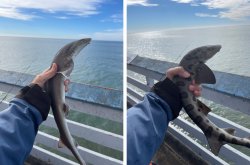 Second day was sleepier with longer periods of no action and even tricky to get a bait bite on the small sabiki. Conditions were generally the same just slower all around.
Again the more productive setup was the long casting setup.
Total fish count:
1 Calico Bass (13")
1 halfmoon perch
1 leopard shark
1 sand bass
10 wall eye surf perch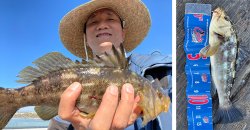 There were 2 small yellowfin croakers, 1 small spotfin croaker and 1 big jack smelt caught by other anglers.
Last edited: