It's with extreme sadness that I once again report the passing of one of PFIC's good guys, Brian Linebarger. Brian was an active PFIC member for many years and eventually became an important member of UPSAC serving on its Board of Directors in several capacities over the years. He was always a gentleman and one I both enjoyed fishing with at many piers and working with at many UPSAC events.
Brian died Friday night and I am awaiting further information but he will be dearly missed. I will write more later.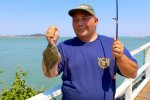 Brian in 2012 at the Marin Rod and Gun Club with a diamond turbot.