I headed out to my favorite beach south of Capitola. I don't think I'd been to the coast since Christmas, when I headed down to Jade Cove. A series of family and work obligations had kept me away, so I was glad to get out today. The weather was great. Clear blue skies, light wind, tolerable swell, mid-50s.
Immediately I could see that the beach finally had some structure again. Winter is doing its thing and moving sand around. What was miles of sameness a few months ago now has obvious troughs, sandbars, and pools. After spending too much time tying my Carolina rig (1 oz egg weight, SPRO power swivel, 15# fluoro, Gama #4 drop shot hook), I headed straight for a likely looking trough and hooked into my first perch within 10 minutes. After that it was a steady succession of 7 inchers (all tossed back) until I got slammed by this big girl.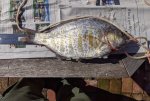 That was the last bite of the day, but I wasn't disappointed. Besides, I had other things to take care of.
The drive back home was beautiful and traffic free. So was the drive in the morning. Man, what a great day. My only regret is not making time for a meal at Aptos Street BBQ. Next time!