Went back to the Newport Jetty and fished from 7AM-11AM. High tide was around 8:45AM. Bite was slow and current was strong fishing the bottom. Fished carolina rig with 1 oz. sliding egg sinker using pieces of market shrimp. Caught a short calico bass on the harbor side using this method.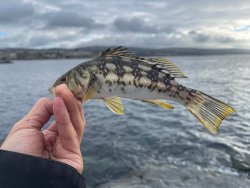 Switched to a float with a larger 4 hook sabiki rig initially to try and find some mackerel. Got bites and hooked a small sized blue perch but nothing else. Assumed that the bites were from smelt or small perch.
Sized down on my sabiki rig and fished the rocks in close and caught a steady supply of small blue perch, black perch, blacksmith, senorita and rock wrasses before I left at 11AM.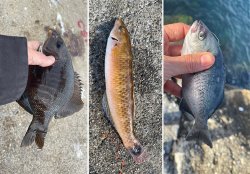 Total Fish count:
7 Blue Perch
5 Black Perch
5 Blacksmith
2 Senorita
2 Rock Wrasse
1 Calico Bass
All pretty small with the exception of 1 rock wrasse which was a decent sized. All fish were released.

The friend I was fishing with caught a mackerel and a smelt on a diamond jig. 5 other anglers fishing in our area did not catch fish. My friend saw a large male sheephead patrolling the rocks but we could not get it to bite or we could not get our baits into the strike zone without snagging.
Felt a little like Catalina with the variety. The main difference is the method I had to resort to to catch these fish was unlikely to produce anything of notable size.
Last edited: