Up early again and headed out to the South Jetty at HMB this morning. Parked in front of the RV park, a fellow angler (Ron, I think was his name) parked in front of me and asked me if I was going poke poling. He's normally a kayak fisherman and later I saw him in his wetsuit bottoms poking from the outside the rocks I was hopping across. Makes you think.
The drizzle was pretty heavy until after dawn, and then there was light drizzle on and off. I poked the incoming after a -1.2 low. I plucked 4 juvenile grass rockfish and 2 14-18" eels from under likely looking rocks in about 2 hours. The bigger one had swallowed my 3/0 circle hook (I don't know what more you could do to prevent this!) so he went into the bag. I'm glad I just tie a bunch of 3" leaders for trips like this. I snell the hook on 50# mono and then put a perfection loop at the other end. I can cut and re-rig in seconds.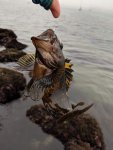 (Is this a Black and Yellow? I don't remember it looking this vibrant at the time.)
Around 8:30 I started fishing my way back. I had some nibbles and lost some more squid, but that was about it.
Next I headed to SF where I wanted to return to a spot and see how things looked with a strong incoming tidal current. The little chart in the back of my Tide-Log was super useful here since it helped me pinpoint when I'd see peak flood at this spot. (If you've never sprung for a Tide-Log, it really is the Cadillac of tide charts. Treat yourself in 2020!) I sacrificed a few jig heads and swimbaits (I'd just trap rigged two of them last night!) to Poseidon, lost a shaker Striper right at water's edge, and moved on.
I stopped in at Hi's Tackle Box to refill on jig heads and swimbaits. Their price for squid: $4.99. Lucky's Supermarket: $17.69!
I stuck my head in at Robert E Wooley (one fisherman, no action), Kincaid's (cast netters were collecting 0-3 topsmelt, anchovies, or the occasional baby striper on each cast), and Anza Fisherman's Park (more folks having picnics than fishing). I threw a double dropshot rig with lunker grubs for some time hoping for Striper or Halibut. Nada.
Further down the 101, I decided to stop in at Cooley Landing (East Palo Alto) to see what was going on. There was a strong breeze blowing by now. Just as I walked to the end of the breakwater, a small bat ray was being released. I threw the swimbait a few times, but there was not much point. Mostly I wanted to see if I could feel the depth and construction of the bottom. Maybe see if I could feel currents.
On the walk back to the car, the little trailside didactic talked about all the species that can make their home in and around estuarine mudflats. Starry Flounder featured prominently. If the flounder can read, maybe they'll realize that they can now come back to the bay.
All in all, a great day out. The eel is in the cooler. I need to gut him.