It's been a slow season overall from the shore.
I believe it to be from the unusual weather we experienced this season that threw off the bite. One ☝️ big piece of evidence in this was a short, all most nonexistent herring season. There was enough spawn however to present some juvenile herring now just big enough for a small live bait presentation (which I caught my fish on).
Started fishing late today at about 5pm. Arrived and was barely able to make bait. I got 1 American Shad and a few small herring. The Shad was consumed by the crabs.
I made a double 3-way rig (which is basically a high/low surf leader). I did 3' on the drop and 1' on the hook lines. 3 more feet and a two-ounce torpedo weight. Casted out just a few feet to keep the bait up off the bottom and away from crabs. Baited with two herring hooked parallel to the nose, I got a nice pull out of line right after sunset. I lifted my old bottom-of-the-line, green Lamiglas casting rod paired with Avet SX and gave a light firm swing upward as I applied pressure to pull the Hayabusa #2 light circle hook with enough pressure to set the hook and keep tension on it as the rod doubled over for the short fight that ensued and the 24" was landed.
You can see what happened to the hook in the picture below .
I was the only one I saw that caught anything (other than baitfish that weren't really around).
Synopsis: this late in the season there aren't too many fish around from shore but there are one or two perhaps. There were good numbers a couple months ago for some fishing near the Gate and Alameda from shore. We'll see what happens in the next two months!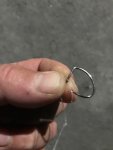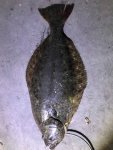 Last edited: