Just in, Cali-Hali on a double-Snookie rig (basically a hi/lo) with two topsmelt tail-hooked because they were about 4 inches, one ounce pyramid, and two Hayabusa #2 light circles. 24.5" and I splashed a 21".
Pretty much the 1st cast commencing fishing at 4:15. 1 person here and they left. Still at it.
Fish is dedicated to
Eloy Padilla-Salazar, fisherman
, that I just found out died today of cancer,
R.I.P.
I tip my Bud Light to you, as this was his favorite!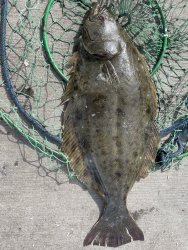 Last edited: