This is my first time back at the Newport Jetty on a weekend since the very first trip I came. It was a good day for surfing which made it a difficult day for jetty fishing.
I had a theory that I had learned how to fish structure better from fishing Cabrillo Mole in Catalina and that I could take what I learned at get better results fishing rocks at my local jetties. Largely this effort was sabotaged by the swell conditions. The water was being stirred around so heavily that it was impossible for me to get anywhere close to structure without snagging. Even when I was a place in between the rocks, the waves would come and swirl my rig around until it was stuck.
I met my chiropractor and my buddy Duke there. Duke just had a short amount of time so he mostly watched. I stayed closer to the beach on the harbor side at the beginning and was able to get pretty consistent bites there from what felt like smaller fish. I only managed to hook one fish, in that spot, a tiny calico bass. I was fishing a hi lo rig with size 6 hooks, 30lb flouro leader and market shrimp and blood worms.
My chiropractor and I made our way out to the end of the jetty. I fished the bottom there with the same setup and this was the spot where I was having much more trouble fishing structure without snagging. My chiropractor is new to fishing and I underestimated how challenging it would be for him to avoid the rocks even casting farther out with a float sabiki for mackerel. He would reel in and the swells would push his rig into the rocks before he could raise it out of the water. He lost a number of rigs and even broke a cheap telescoping rod that he had purchased as his first fishing setup. To his credit, he seemed to keep a good attitude and kept trying to catch fish.
I rigged up my smaller pole with a Mustad 4 hook Bait Maker sabiki. This has little four different colored lures on it that look like small squid with some flashy thread and bigger hooks that the typical sabiki I use. This was the most successful setup for the day but we really didn't try it until just before we were asked to leave by lifeguards who informed us that the jetty was being closed because of high surf. We ended up fishing from about 10AM-2:15PM.
While we were there a couple short sand bass were caught on the harbor side with squid, and the same guy in that group had good luck catching larger mackerel with a simple split shot rig and hook with a piece of squid or mackerel at the end. I always forget this rig, and really should remember it more often especially when fishing with newer fishermen in these types of conditions.
In the future, we will check the surf reports closer as during high surf, not only do they close the jetty but also if it is high surf on the weekends, the parking in the area becomes difficult because hundreds of people gather to watch the surfers surf the wedge adjacent to the jetty.
I ended up catching 4 mackerel in quick order with this rig by casting it out and letting it sink to the bottom and just jigging it slightly off the bottom. I let my chiropractor fish this setup and he ended up catching 2 mackerel, and a sculpin. He also added a jack smelt and a black perch on a smaller sabiki with a float, earlier in the day. Ended being kind of a right of passage for my chiropractor. Not something I would have chosen for his second time fishing, but I was impressed with his attitude and perseverance. His wife thought the mackerel he brought home was super fresh and delicious, so he is hooked on fishing and looking to upgrade his gear so it can handle the rigs or jetty fishing.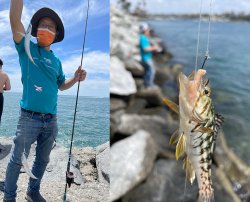 Last edited: