My first article sold to a magazine. The times have changed: the fishing and regulations have changed, the tackle and methods have changed, the crowds and costs have changed, my writing has improved (I think), and the magazine is history.
Western Saltwater Fisherman
September 1982
Bottom Fishing At Fort Bragg
Ken Jones​
"It looks a little choppy," I said, as we turned onto Highway 1 and viewed the wide Pacific. "No sweat," said Ernie, as we drove the final 20 miles to Fort Bragg. No sweat. Sure! It was mid-April and after a near record amount of winter rain and a dismal steelhead season we were both ready for some big rockfish and fresh fillets.
Across the Noyo River Bridge we took a sharp right turn on North Harbor Drive and after a short drive to the foot of the hill there was our boat for the day, the
Poopsie 1
. We arrived at 6:30 a.m. and half an hour later we were on our way; we hoped. Although it was sunny and warm, none of the usual summer fog, the river had a slight ripple to it, a bad sign. Out past the jetty to the whistle buoy, the ocean still looked a little rough. A stop at the black and white buoy to drop a line and test the current. To our surprise there was hardly any current. It might be a little rough, but still fishable. Another half mile out we started to see whitecaps. Finally, the skipper said, "Sorry folks but we're going back in." We took a chance but it was just too rough to risk it. Once again bad weather had won the battle.
As we neared the dock I watched a fisherman on the opposite wharf jigging for herring and getting one or two nearly every cast. As small boy on the adjacent pier was pulling in seaperch, which were spawning in the river. Well, at least someone was catching fish.
I have fished these waters many times and I knew it wasn't the first or last time this would happen. Along this rough and rugged stretch of coast you simply have to take the weather into consideration. Yes, we had called the night before, and yes, we had been told it was an iffy situation. But we just knew conditions would be fine by the time we got to Noyo. We were wrong!
Two weeks later I was back and as optimistic as before. This time conditions were perfect and after a short 45-minute trip from the dock, the boat slowed, set up for a drift, and then stopped. The skipper said to drop our rigs to the bottom and then reel up a few turns until we felt the fish. The Fathometer showed a steady line of fish from the bottom up to 90 feet, but the bottom was 300 feet away.
The rod next to me bent, and then I felt a tap. Soon all five anglers were catching fish and wrestling them up to the top. Although 300 feet is a long way up, I soon saw color and the skipper reached down to lift up a nice-sized yellowtail rockfish. But never take anything for granted. The fish, somehow, came off the hook and flopped back into the water and shot straight for the bottom. Everyone around me was bringing fish into the boat. Three canary (orange) rockfish and a doubleheader of a turkey red (yellow-eye) rockfish and a canary. We were fishing three miles off Caspar on a reef that dropped from 50 to 80 fathoms. The fish were on the edge of the drop-off and we were able to get fish on literally every drift.
On the second drop, I felt two hard hits and reeled in a 14-pound turkey red and a 9-pound canary. The angler next to me had three large yellowtail and the others all had at least one fish on their lines. At 10:00 the deckhand went around to check the sacks and announced that everyone was near the rockcod limit of 15. Two more drifts and everyone was at their limit. We had fished from 7:45 to 10:15 and were back at the dock by 11:00.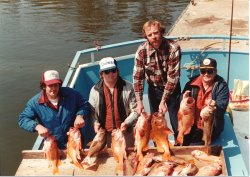 Back at the dock the deckhand cleaned the fish as we took pictures and swapped lies. All of the sacks weighed at least 75 pounds and some were near 100. For some reason we hadn't caught any small fish or lingcod, which are more common on the shallower reefs. But no one complained other than perhaps from the weight of the sacks. That's how rock cod fishing is sometimes. One time you'll get the smaller blues, blacks and yellows with an occasional red for a trophy fish. Other times nothing but big reds. Of course, your chance for reds goes up proportionally the deeper the reef, but you just never know what you're going to latch onto. This is one of the thrills of rock codding for the devotees like myself—the variety.
In checking my Fort Bragg records for the past two years, I show 10 different kinds of rockfish and 16 kinds of other fish. A good example was a trip last August when we were fishing north off of Westport—about a 75-minute ride from Noyo. The skipper's Fathometer showed there was a school of fish beneath the surface, small 1- to 2-pound blue rockfish. The fish were so thick that three or four of them on each line was common, but who wants to load up on small fish? The answer would be to drop your line to the bottom for something bigger, but it was almost impossible to drop through the blues without hooking one. Below the blues was a school of 2- to 4-pound yellows, better fish but, again, too small.
Finally the skipper said, "Let's move and find something bigger." Move we did and we found reds, lingcod and even some flatfish. My sack included a full limit of rockfish, plus a 32-inch lingcod, a 19-inch seatrout (kelp greenling), and a 16-inch petrale sole. Again full limits for everyone and some nice variety to boot.
Over 90 percent of the skipper's customers caught their limit. The variety of fish will depend to some degree on the depths fished. Inshore reefs will yield blues, blacks, yellows, seatrout, cabezon, and some fantastic lingcod. Deep-water reefs will find canary, turkey red, yellows, vermillion, bocaccio, rosy and chucklehead (copper). Of course, you never know when you'll pull up a sole, flounder, hake, or even a sablefish.
Tackle can vary, but the simplest method is to use what is provided. Here the basic rate of $25 covers all bait and tackle; unfortunately this is not true everywhere. The only extra charge is if you need a gunnysack or if you want your fish filleted. Basic gear is 6-to 7-foot heavy fiberglass rods, a heavy-duty reel capable of holding 400 yards of 50-pound test line, a 1-pound sinker, and a multi-hook shrimp fly leader.
Regulars bring along two additional items. The first should be a medium-weight conventional or spinning outfit. This is used on the schools of blacks, blues and yellows encountered in shallow waters. On a small jig these fish will put up a fight as aggressive as bass and certainly give a new perspective on rockfish. Second, have a variety of diamond jigs or hex bars, which should definitely improve your chance for a big ling. Attach these in place of the normal weight at the bottom of your leader and keep them in motion off the bottom. A small fillet from one of your other fish is often the final enticement needed to catch those trophy fish. Lings over 30 pounds are fairly common and a few over 40 pounds are taken each year.
The excellent chance for reaching your limit of delicious rockfish is one of the big draws of Fort Bragg bottom fishing. The chances for a Bay Area angler are nearly as good on Farallon Island, Monterey, or Bodega Bay trips. Santa Cruz and Half Moon Bay will also yield limits on most days. In fact, in many rock cod areas, limits are the rule. It is worth the time to investigate the North Coast areas.
For anglers like myself, who are prone to seasickness, the long trips and rough seas of some areas, particularly out the Golden Gate, can get to be a real problem. In Fort Bragg most reefs are within a reasonable distance—usually around an hour's running time. In the north, excellent reefs are found from Laguna Point to Westport. Just south are some fantastic reefs off Mendocino and Caspar. If you're used to 30 to 50 people on a boat fighting for space and spending much of your time untangling lines, you'll love it here. I have never been on a Fort Bragg bottom trip with more than 12 people. Although in the summer months the entire area is jammed with salmon fishermen, the bottom boats remain virtually empty. Not only are the boats not crowded but also the reefs do not get the pressure of those further south.
There are three reasons for fishing at Fort Bragg: good fishing, reasonable boat rides, and no crowds. Generally spring is the trickiest time with clear but windy weather. Summer is usually foggy and cool—but fairly calm. Fall is the ideal time with both calm water and warm weather. Winter gives some excellent days in between the storms. So, if you're planning a vacation, I would recommend September through October. Not only does the weather cooperate, but also the fall is when the big lings invade the shallower reefs on their annual spawning missions. Fairly easy limits of lings are common.
One possible negative note can be the salmon fishing. When the salmon are hitting, most boats fish for them exclusively—so at times it is hard to find a bottom boat. However, the
Poopsie 1
is scheduled to fish only bottom fish this year.
If you're ready to give Fort Bragg a try, here is how you get there. From the Golden Gate take Highway 101 north to Cloverdale, 90 freeway miles. Turn left onto Highway 128 just north of Cloverdale. Highway 128 will take you through Boonville and Anderson Valley, along the Navarro River, and through the Redwoods. Fifty-six miles from Cloverdale you will hit Highway 1 and you turn right. It is 20 miles straight ahead to Fort Bragg and Noyo Harbor.