Hello again everyone! Been a LONG while since I posted here. Mostly cause I don't record my fishing trips, but I'm getting around to regularly recording them in my logs.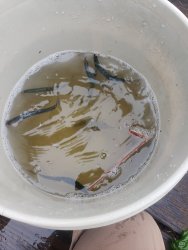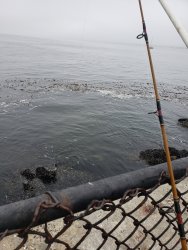 I arrived at Monterey Wharf #2 at 7:20 AM. The pier was uncrowded, surprising since I've never been there so early. There was a nice school of anchovies there, I caught about 20 of them on a sabiki rig, keeping them in my aerated bucket. One guy had a couple of sardines. Cormorants, seals and according to the locals stripers were taking their fair share. I missed the striper bite, but one fisherman traded one of his stripers with me for a bucket of live anchovies.
I left the pier at 10 am, determined to catch a nice cabezon or lincod at the Coast guard pier. For some reason, nothing wanted my anchovies there, but I caught and released 4 undersized cabezon, largest being 13 in, 2 rockfish, two sore shoulders(suggestions of what to add to my future pier cart are greatly appreciated), and 4 rigs. The bait of choice were mussels, out doing squid 2:1.
I went to Moss Landing at 3pm after a lunch break and a chance to clean my striper. Bleak conditions, with no bites except for one brave jetty crab.
Going back to Wharf #2 at 4:30pm was a stark contrast to the morning. No anchovies, but there was a scattered showing of jack mackerel and one nice jacksmelt. Finally left at 5:30pm, fried the anchovies into nice fish fries.