I started the morning at 4:55am, with all my stuff organized the night before. My new pier cart was set, secured by the high cutting edge technology of prayers, bolts and bungie cords. This proved to be a significant quality of life improvement, since I typically take 3 buckets, a 20lb backpack of gear, 2 or 3 rods, a ladder, and a extendable net. I plan on lightening my load in the future, since even this so-called whippersnapper can get pretty whipped out from a day of fishing with this much stuff.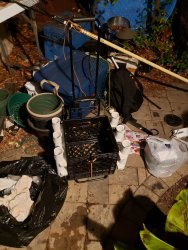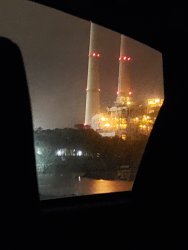 I arrived at Moss Landing at 5:33am, hoping to get a head start on some shore crabs, mussels and pile worms. Unfortunately, the sun didn't "show" till 6:21am, the place I wanted to get worms from turned out to be a sea otter resting place, and the water was too high to expose any mussels (-_-!). Fortunately, I was able to collect a few crabs and C&R'd a small red cabezon I caught dropping some salted squid in some holes.
I then drove to Wharf no.2, arriving at 9:02am. The anchovies were still there, mostly not cooperative, but I still managed to get 5 of them on a sabiki. I threw out two of them for a halibut and switched my other rod for shiners or other bait. Strangely enough, despite others complaining about getting nothing but shiners, I have never caught a shiner in my life even when trying to get them. Today proved no different, since the crabs seemed more eager than anything else to grab my squid and anchovies.
I left for the Coast Guard pier at 10:45am, arriving in a blistering 5 minutes. I fished till 2:30pm, with the only things to show for it being a couple well feed crabs in the rocks and 4 lost rigs. In any case, I was meet with nothing but more hungry crabs, and decided to go get lunch and check out the Wharf again(the most expensive purchase of the trip was a sandwich, fries and a drink from PigWizard. It cost me $23.35 (⁰o⁰*). It wasn't a bad sandwich, but I'll probably just punch more holes in my belt next time.)
I got to the Wharf at 3:07pm, the anchovies were in full display to the onlook of those fishing, touring or lounging on pier or beach. A couple ladies braved the cold and questionable water quality of the ocean, swimming toward the schools and harbor seals. The anchovies, in perfect silvery synchronization like ballet swimmers in the Summer Olympics, twisted and turned from man and beasts alike, tens of thousands of mouths wide open to eat microscopic morsels while being eaten themselves by pelicans, comerants and seals, the entire cyle of nature being condensed into a spectacle of life. I should have taken a picture or video of it, but I was just too entranced by it all. Before I left at 5:07pm with about 20+ anchovies to eat(with a surprise few sardines), I watched as a man hooked and landed a 40lb bat ray, riding it down to the beach, taking about 25 minutes for him to land it. The aforementioned ladies were very vocal about its being released and so, by democratic majority, it was dragged back to the surf, lazily drifting it's wings back into the muck.
I meet with another high school buddy named Aaron, and I could see that conditions had improved since I left.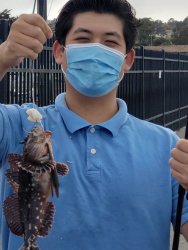 First drop for Aaron resulted in a red cabezon similar to size as the one I caught at Moss Landing. We fished for two and a half more hours till 7:37pm, with both my reels breaking, the Mitchell 306 snapping its bail spring and trip lever spring, and my Penn 704z loosening its rotor cup nut. The Mitchell, now half functional, was borrowed by Aaron, while I resorted to my new handline since I couldn't fix the Penn at the moment. This proved to be advantageous though, as I could reach holes next to the wall with relative precision resulting in a keeper grassie and B&Y for me and a keeper B&Y for Aaron.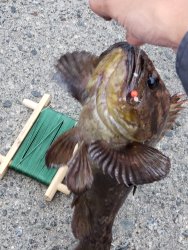 Overall, we both had fun, and after scaling, gutting and packing Aaron's B&Y in a sandwich bag of ice, bid him and the pier farewell till next time. My last order of business, releasing the unused crabs from Moss Landing, hoping they may find their way back home or make a new one.