Howdy everybody 👋
Been busy trout fishing, but I'm getting back into pier fishing for this summer.
Left the house at 5:00am, however I made the mistake of trusting Google Maps without coffee and somehow ended up in Gonzalez :/
Basically lost a hour and a half, so not a great start. After slugging through the morning work traffic, I made it to the Moss Landing jetty at 7:04am for some poke poling. Typical small rockfish and cabezon, but no eels. Idk, maybe it's just not my place.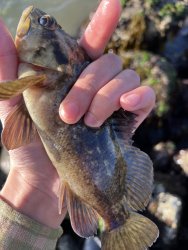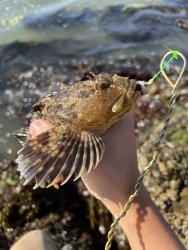 I left there at 10:00am and got to Wharf no 2 at 10:38am. I threw out my bait rig, and after half a hour of no bites went to buy some squid and herring. Chatting with a local crabber who had been there since 5 am confirmed that there was no significant signs of life besides snails and kelp crabs.
Leaving at 12:24am and getting to the Coast Guard Pier at 1:47 after some Pizza My Heart.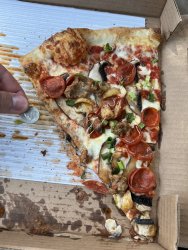 Plenty of fishermen there, with action being relatively slow. About one or two good rockfish or undersized cabs per hole, but it would take 4-5 holes to find them.
The highlight of my day was helping a father and his two sons catch some fish. They were from the Lake Almanor area, and were fishing with trout gear. So, I lended them my tackle and showed them how to fish the holes. They immediately caught some rockfish, keeping one to see what they tasted like and releasing the rest.
At the end of the day, I ended up with 5 B&Y and one grassie. They all make a great breakfast, and I'm down to the last two as of today😋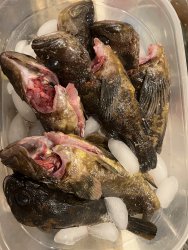 P.S.- I have a working prototype idea for circle hooks and the Pacifica trolley rig. I've been thinking about it for this salmon season, so stay tuned for a post about that. I was meaning to take pictures and tests of it at Wharf no 2, but it completely flew over my head. Hopefully I'll be able to get the opportunity at Pacifica this summer. It's not perfect, but it should greatly improve the chances of solidly hooking salmon without major changes to the rig or to the gear needed.