Sorry for not posting recently. Been busy with stuff that I couldn't squeeze fishing with, but finally got some free time on Friday
I arrived at Monterey Wharf no2 at 6:59AM. I was a bit hazed from the lack of coffee and breakfast after spending a hour looking for my crab net and hand warmer, but today would prove either of them unnecessary. The prize at the wharf was jack mackerel, and people were crowding the end section of the pier. I decided to fish at the corner just past the bench, since the guy in front of me had caught at least 7 mackerel while I was setting up. The trick seemed to cast your sabiki(the flashy pink and green bucktail ones) as far out as you could, jigging or sweeping them back toward you. I only managed to catch 6 of them, but two were about a whopping 6 inches, so for me 6 was plenty. I also caught a fairly large sardine, a very nice surprise since I prefer sardines over jacks. After a while, I got bored of casting out and let my rig dangle next to the pilings. Surprisingly, I brought it up full of decent sized anchovies, all larger than the ones I had caught on my previous trips. I continued to drop the rig close to the pilings, and got 4 more anchovies.
Leaving the wharf at 9:00AM, I arrived at the Coast Guard pier at 9:13AM. I had planned to use my mackerel as lingcod bait, so I set one up on a three way rig and cast it in a kelp pocket. While that rod rested, I did my usual hole hopping technique and caught and released a small beautiful cabezon.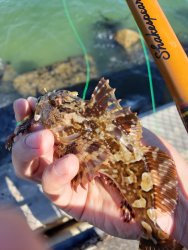 Unfortunately, the tide was going out so it was harder to find my favorite holes. I would C&R another cabezon, but got nothing else from the holes or the lingcod setup which lost two mackerel in the kelp. I decided to go get some lunch, cleaned my bait, and left at 1:12PM to go to New Tokyo in Marina. They have good food there, and I also got some pomegranates from a guy selling them on the street. It was also a very warm day for Monterey Bay, so taking a break really helped my fried out nerves.
I went back to Wharf no 2 at 3:48PM, and the mackerel were still biting. I was tired of casting, and I had only come to the wharf for some ice. After giving a lady one of my sabiki rigs and helping her get some anchovies, I decided to at least burn the rest of the hour I paid for parking by catching a few sardines. I rigged up a sabiki I made at home with 6lb Ande and size 14 gold salmon egg hooks. Interestedly, the sardines seemed to be all over the salmon egg hooks, while the anchovies and mackerel mostly ignored them. In about a hour of fishing, I caught 15 sardines and 4 anchovies. Here's a picture of the total catch at the Wharf, the left plate in the afternoon, and the right one from the morning.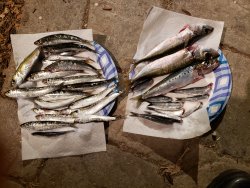 The ticket man showed up, and instead of paying for more time, I decided to go back to the Coast guard pier.
I decided to give up on the lingcod for the day, and focused solely on the holes. I got two more small cabs, but it was still a tough day. A older gentleman and a guy about my age took interest in my success, so I gave them some bait and kept fishing. When I pulled up a 13 in cabezon, they asked me all about my tackle and method, so I tried to help them but the holes were just not working out that day. I ended my trip with another cabbie, and after letting some tourists take pictures, released it and called it a day at 6 pm.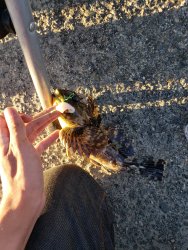 Total catch
16 sardines
13 anchovies
6 jack mackerel (2 used for bait)
6 undersized cabezon