-Went on "Flash Fishing" charter with Captain Steve Talmedge "six packing." This trip was a free appreciation trip for volunteers for the Diamond Classic Kids derby. It was a special reward for those who helped with the pier contingency of an event that is mostly boating. This is the 7th year I have volunteered and we started off with an affiliation with UPSAC/ PFIC. Joining me on the excursion were two other PFIC members: XPostman and Baitchucker.
-To put it in a sentence, the fishing isn't what we expected. Or maybe it was? Sturgeon fishing is just that, unpredictable for the most part. But, I like San Pablo Bay over Carquinez Straits for what was marked as a sturgeon trip, and if I have a choice, I pick San Pablo and the area of the pump house over the Benicia area. And it was pretty much proven to be better as Captain Steve's 2nd 6P boat, Flash 2, fishing in San Pablo Bay had odds 3:1 better than we had catching 3 sturgeon keepers to 1.
-We started out and launched from Martinez Harbor at 7 am returning at 3 as it was not only St. Patrick's Day, but the captain's birthday as well, and he needed to be home by 6.
-Fishing: we threw everything at 'em, you name it (maybe I should have brought some of that squid in my freezer?). The one 52" and baby of 1 foot were both caught on ghost by the captain Fishing only 1 rod off the starboard side (that I had 1 rod on). The rest of 13 rods and 7 anglers skunked (save a 14" striper caught by "David" who's pictured in the photo with the captain).
-So, eight hours of nothing for the rest of us (most fishing two pole stamps and two rods). Made me appreciate what I do on shore/pier all the more. Would've been $150.00 for the trip.
-We had grilled elk (that the captain bagged) and tri-tip that "Bob" brought. We had sodas and a beer that Frank and Patrick provided as well. Also, a tasty mocha cake that someone brought for the captain's birthday. David actually baked some chocolate cupcakes and brownies as well to prove he can "put it in the mix" as an angler.
-Every kind of gear you can imagine was brought and utilized by the anglers: Avet Raptors/ Avet 1-speeds/ Shimano Tranx 500/Daiwa Lexa 300/Accurate 500/Cousins/Phenix/Shimano/custom wrapped rods/braided lines/grass shrimp/ghost/eel/herring/anchovy/salmon roe. Weights of 6 to 16 ounce pyramids and K hooks of all brands with one or two using different letters of the alphabet like J!
-Didn't matter, fish were not on the chew. Most used sliding sinker rigs (as the radar said the fish were on the bottom) and I had a high/low on my second rod at one point. Stripers did not agree either. I did not see anything that resembled a legitimate bite. Great fun, food, company, but not so good fishing (except the captain of course). Fished 25-40 feet of water. Did not fish Ozol which is one of my favorite holes for that area.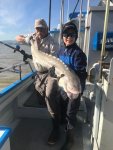 Last edited: