Saturday saw a large group of volunteers and a large group of kids and parents at the Marin Rod & Gun Club pier for the 28th annual "Kids Day on the Pier" fishing derby. For some reason they seem to like my organization so I was pleased to be involved for the 10th year.
We had 86 youngsters on the pier with at least that many adults and fish were caught although not too many. I think the red tide was making its presence known as only 11 bat rays, 3 leopard sharks, 1 halibut, 1 jacksmelt and 1 surfperch were caught. Typically the list is led by a big number of jacksmelt so I think their absence more than anything else reflected the red tide.
There were many club people to thank but I want to especially thank the PFIC crew that showed up—Rita Magdame, Kyle Pease, Dave DeJong, Robert Gardner (Redfish) and Hans Jones. They rigged (and unrigged) rods and reels, took pictures, and helped judge and it was all appreciated.
Herein are a few pictures but I will be posting a more detailed report later.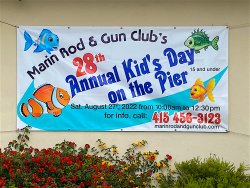 We would give prizes including a rod and reel to every participant 5-15 years of age.​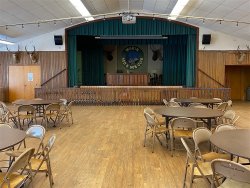 Al Petrocelli the club coordinator raised more than $7,000 in donations and part went for all these rods and reels.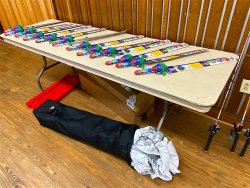 Rods and reels for the little ones.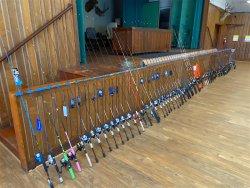 More rods and reels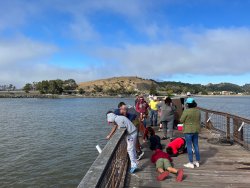 The kids looking at a bat ray under the pier (photo courtesy of Dave DeJong)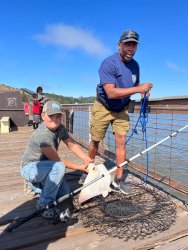 Bat ray time (photo courtesy of Dave DeJong)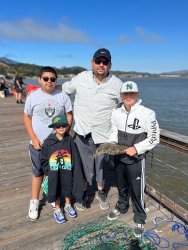 A halibut. A larger 19-inch halibut was caught before the start of the derby (photo courtesy of Dave DeJong)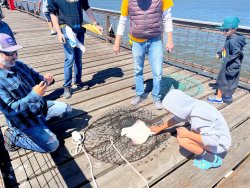 Another bat ray (photo courtesy of Dave DeJong)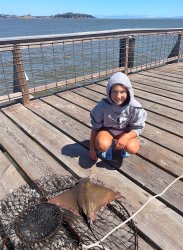 An excited young angler and a bat ray (photo courtesy of Dave DeJong)
​