Did some exploring and fishing between Stevenson Bridge and the I-80, just south of UCD. I was out there from 7 am to 4 pm (a lot of time spent walking/picking through poison oak) and caught five fish, two largemouth, two (smallmouth? spotteds? hybrids?) bass, and a Sacramento pikeminnow. I caught the largemouth on 5" wacky rigged senkos, the other two bass on 3" swimbaits, and the pikeminnow on a trout magnet.
First fish of the day: definitely has some smallmouth in it, but in the water it had a pretty pronounced lateral stripe. I actually caught this fish twice within an hour, this picture was taken the second time around.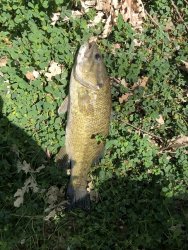 Second fish caught within 15 minutes of the first.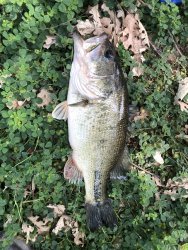 Third fish, a little more confident that this is a spotted bass, but the lack of a prominent lateral stripe threw me off.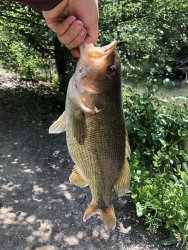 Fourth fish, I was specifically targeting pikeminnow just to add them to my species list, I saw some larger models upstream but they wouldn't bite.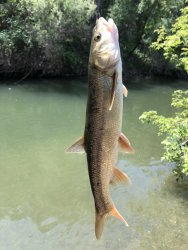 Last fish, I caught this just as I was about to leave. I sight casted a senko right in its face a couple times before it committed.