Saw a gap in the rain on Sunday morning so I headed out to San Clemente and fished the end with my new long casting setup (12' Daiwa Emcast with 4000 Shimano Bait Runner). I fished from 7:30AM to 4:30PM. Hard to tell if the bite was slower than I am used to or if my new approach causes me to ignore the smaller bites I experienced with my old setup.
I mostly fished two different hi lo rigs. One on a shorter casting rod with size 4 kahle hooks and one on a long casting rod with size 2/0 kahle hooks.
Started the morning off on a shorter casting setup fishing the sandy spots just before the reef for a small spotfin and yellowfin croaker.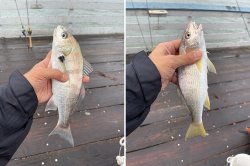 Then the long casting setup started to heat up with a parade of bass. The most notable being a 13.75" Calico. The largest sand bass i caught (12") also had beautiful colors with a flush of red at the bottom.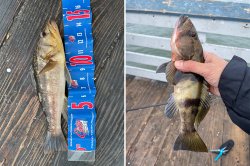 I casted my short casting setup with some extra umph and hit the reef and was able to secure an Opal eye. It is always nice to get one of these. They are a rare catch for me because I don't target them and they are such an uncommon by-catch because of their bait preferences. I also finished the day with a black surf perch for the 7th species of the day.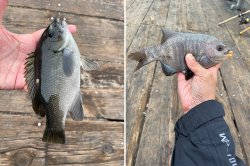 Catches on the day were:
4 Sand Bass
4 Calico Bass
1 Opal Eye
1 Spotfin Coaker
1 Yellowfin Croaker
1 Black Surf Perch
10 Wall Eye Surf Perch
A very large sand bass (definitely legal, maybe close to 20") was caught mid pier I believe by
@SCPierGuy
. I think he caught the fish on his new drone paired with his electric reel but I'm not totally sure as when I arrived he was fishing a traditional setup. Update: Spoke to him about the bass on the following Tuesday. He said he did not measure to the bass but he estimates it was 16". To my eyes, it looked much bigger.
Did not notice any other catches while I was there with the exception of a walleye surf perch that someone brought to me for an ID. The bite was very finicky in any other spots other than the reef. The bait bite was even slow at the end for me as I was only able to catch wall eye surf perch fishing a sabiki for a short amount of time.
Was really pleased to get out in between the rain! Happy winter fishing everyone!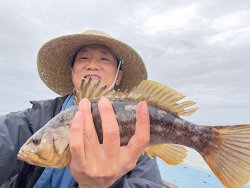 Last edited: