Quick report that I'll update later with pictures.
Met my cousin and her husband at San Clemente Pier. I fished from 7AM-11AM. They arrived around 8AM and left at 10AM. They switched off fishing a single rod with a Size 6 Hayabusa Sabiki under a float that was baited with market shrimp.
They caught:
8 Jack smelt
2 Salema
2 Wall Eye Surf Perch
1 Black Surf Perch
1 Spanish Mackerel
I fished a high/lo with a size 6 bait holder and size 8 mosquito hook baited with a piece of lug worm and a piece of market shrimp. I caught:
5 Black Surf Perch
2 Sand Bass, 1 small and a 15" (Personal best)
A 13" Sheephead
1 Yellow fin croacker
6 Jack Smelt
1 Wall eye surf perch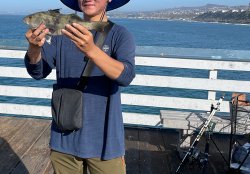 Probably the best time limited session I've ever had fishing on a mainland pier. While I was cleaning my fish I hooked a good sized fish on live smelt that ran me under the pier and broke me off.
A pretty big trigger fish was hooked by a guy fishing the left corner at the end of the pier but the fish came off the hook at the base of the pier.
Some decent size mackerel were being pull in as we were leaving. More mackerel were caught as we hit high tide ~10:30am.
No bonito were caught by anyone and did not see any bait boils while we were there.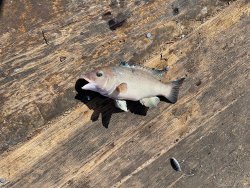 Last edited: