The John Sutter Pier (officially the John Sutter Observation Pier) — I had the pleasure of fishing a new pier the other day with Robert G (Redfish). It was the John Sutter Pier that sits next to and somewhat under the Bay Bridge. We managed to get a skunk for the trip but it's always interesting to see a new pier and take a few pictures. However, a write up on the pier will take additional trips and information.
The pier in many ways reminded me of the old Vallejo Pier that was built from the original Vallejo bridge and that sat adjacent to and almost under the new bridge. That pier was noted for striped bass and some big sturgeon; it remains to be seen what thie pier will be known for. To date, it's mainly known as a good pier for bat rays (mud marlin). It's a site for a possible mud marlin derby but the distance would be a problem for some and it would need to be earlier in the day. I also imagine you cannot cook on the pier.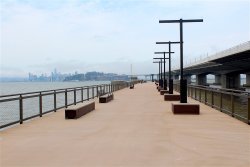 It's a beautiful pier that is clean and provides good facilities for an individual or family and also provides some of the best bay views looking toward San Francisco. The main detriments for many will be (1) the long walk that is required to reach the pier, somewhere around 2/3 of a mile, and (2) the possibility that a fishing license may be require since it's listed as an observation pier, not a fishing pier. We will need to get clarification.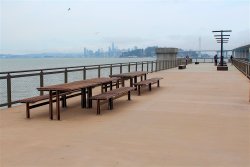 There is even one nice set of tables for a family picnic.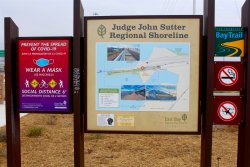 The pier is part of the larger John Sutter Regional Shoreline park.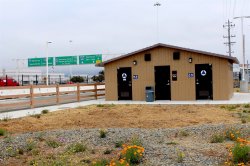 These bathrooms are adjacent to the parking lot and appear to be open every day until 5 p.m.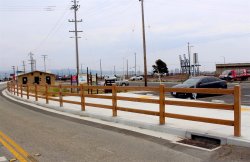 There is a large parking lot that is apparently open from about 8 a.m. to 5 p.m. However, once parked you can still exit until about 10 p.m.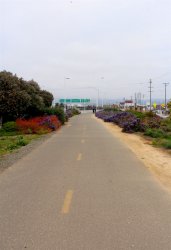 There are two trails, this larger trail CalTrans trail and a smaller walking trail lined with beautiful vegetation.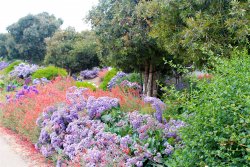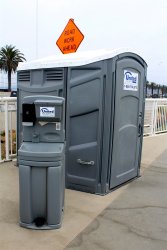 This porta-potty is located about half way along the trail.