Okay, if you read this far, its in West Oakland. What is special about this post is that I fished with
Ken Jones
, author PFIC, today. Ken is up here from Fresno to drop off some rods for the August 28th MRGC Kids' Derby and we wet a line together.
Actually, I wanted him to see the new
E2 Pier
at Yerba Buena Island, but that was a "wild goose chase." It was open months ago and is now closed as they are doing more construction. Well, maybe we could have walked over and through the construction team??? I tried my best to convince the Coast Guard sentry person at the gate to let us through to look at the pier and take pictures; he wasn't budging. I even told him about my dad being an ex-1st Class CPO; that didn't work, lol!
So, Ken and I went over to
Treasure Island
to take a look since we were right there. There is a road from Yerba Buena Island that connects from E2 Pier back over to Treasure Island. The bicycle route that will end there is currently being constructed but only the car road goes through presently. We went on the main road straight ahead on the San Francisco side where the old TI Pier used to be only to now find it fully deconstructed. And at the end of the road SW, we encounter a guy fishing with his son of about 8-years-old. I notice that they were using a big white swimbait with a jighead that looked like it was about 2 ounces on a low-profile plugging rod and bait on the other casting conventional rod. I mentioned to Ken that Big Rich (former PFIC fishing buddy) and I would always fish the Oakland side as the wind is at your back when you cast and a little calmer, but that I have heard more soupfin are caught on the SF side.
Ken and I made the circle to the right and headed to the back of TI facing Oakland, past the housing, to the row of palm trees, and finally to the side facing the Bay Bridge next to Bay Shipping. The guy and his son had actually moved back there to fish a little (after I had mentioned that was were I would fish to get out of the head-on wind).
We left there and went back to
John Sutter Observation Point Pier
in West Oakland to actually fish a little. I mentioned to Ken about the 2/3 of a mile walk to the pier as we parked and followed the Cal Trans/EBRP trail to the pier. As we walked, I told Ken of how I would drive across Cal Trans' yard and fish under the bridge years ago before the pier was there. It used to be a mystery to me seeing people below the bridge at the Cal Trans turn around coming back across the bridge from SF years past. The pier is just past the turn around that is the beginning of the bicycle bridge that goes up along side the Bay Bridge ending at Yerba Buena Island.
Ken will perhaps have a detailed report/blog of the pier at some later point in time.
We fished for a couple of hours right about noon.
Not very good results as the tide was getting closer to the top with 5 other anglers there and 3 of them leaving simultaneously with our arrival. They had all caught a couple bat rays with the 2 left catching 1 a piece while we were there.
I was set up for striper perhaps with a hi/lo surf-leader with cut anchovies. No apparent baitfish around. No dice!
I am attaching 1 picture below of a
(previous catch)
for Ken's blog if he does it. Mostly just serenity at this spot...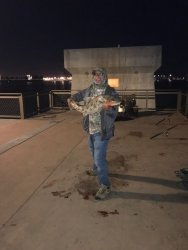 Last edited: