Arrived at 7:30AM and went to the end to the left of the restaurant at the end facing the shore.
I hooked a decent sized white sea bass on a 20g slow pitch jig that came off at the surface of the water right at the pier. All for the best as it was not legal size.
I caught a 13" sand bass on live smelt fished on a carolina rig. While fishing for bait I caught a couple handfuls of sardines and a handful of smelt.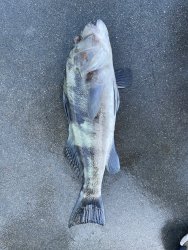 Bite was slower today. Was harder to get bites both fishing for bait and fishing for bigger fish.
I saw a couple small bonito caught on sabiki rigs and another short white sea bass was caught on a stick bait used as a sinker on a sabiki rig.
I saw one mackerel caught on a sabiki with bait. Apparently there were mackerel to be had from 5:30AM until just after sunrise.
Walking back off the pier I saw someone caught a medium size leopard shark in the inshore fishing area and someone else released a small unidentified shark also in the inshore area.
Last edited: