Yeah, an exact spot. Anyone who remembers this spot in the early 90's early 2000's will remember this as a hot spot for throwing spinners for salmon.
Now, you'd be darn lucky 🍀 to catch one. I imagine they released salmon fry/smolt there every year for years as an account for the good shore salmon fishing, I don't know for sure?
Anyway, it was a trip down memory lane from some 25 years ago when I walked up those train tracks with a spinning rod, salmon spinners and the hopes of a nice hen. Only ghosts of the 100 or so guys that lined the rocks at the shoreline around the train tracks.
I had an appointment at Rodeo Family Optometry so I packed a couple lures, a 7' 1 piece Shimano Compre rod and a Shimano Solstace 4000 with 30# Power Pro braid.
It was already 4 when I finished my appointment and I parked on California Street and walked up the tracks past the refinery on the uneven gravel that lined the train tracks to the area where the hot water goes under the train tracks where you can see it bubbling from refinery outflow.
I see bubbling, churning, and even a few fish jumping. I cast my lure, cast my lure, cast my lure. The 1 and only 1 guy that was there said he had no luck and that 'there are some striper and the fish you see jumping are mullet' as he was leaving upon my arrival. I saw some big swirls as I was casting and thought 💭 they were striper. I even caught a finger sized smelt on my lure on 1 cast. Then I hooked into something in the bubbly out flow but it came unhooked just as fast. Some more casts and another hook and unhook. I could still see some fish splash at the surface as the sun was starting to set.
I then made a solid contact on my next cast and line peeled out. Felt like a hell of a fish if I was to land it. 40 yard runs straight out and to the left. I buttoned down the drag as I thought I could get spooled of my 150 yards of line if I didn't apply enough pressure.
Finally, after climbing over and along some rocks (where they met the water) to the left and back to the right, I landed the fish. I thought maybe a king salmon or striped bass of 3 feet but no, to my surprise, a mullet of 2 feet that had snagged itself ended up in my net.
The hooked popped out by itself from its side which made me realize they have incredibly thick skin (they are also as slimy as a bat ray). I had finally hooked up 1 of this mullet that these guys told me were there over 25 years ago. I put this puppy 🐶 right back in the drink after the picture.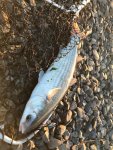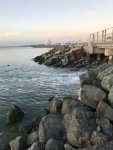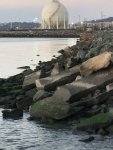 Last edited: