My friend and I visited high sierra two weeks ago for three nights and four days of great backpacking, cross-country hiking then of course fishing. Smoke from Sequoia chased us time to time but we managed to have a good time. We started at North Lake Camp Trailhead near Bishop. Went up Piute Pass then traveling around Humphreys Basin and French Basin. I sampled various alpine lakes and creeks connecting them with my Tenkara outfittings - a Japanese fixed-line fly fishing tackle that is lighter, cheaper, and easier (so funner). One of our goals was for me to teach him how to fish with it, which we managed alright. Above treeline, things are pretty dry. No snow. We saw Golden Trout, Brook Trout, Rainbow Trout, White-tailed Ptarmigan, Frogs but much less humans. Below are some photos from the trip. I hope you enjoy them!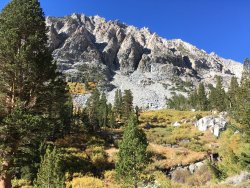 The fall high sierra just looks gorgeous with these colored aspens and brushes. This is near where we started our trek at North Lake Campground 30 min drive south west from Bishop.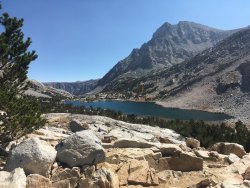 Lock Leven looking pretty. This is before we hit Piute Pass to get into the western side of Sierra Divide.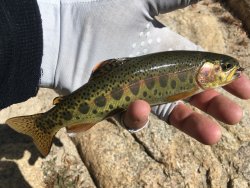 First fish to entrained me was this Rainbow trout. Color is very yellow and it is possible that this has some hybridization with golden trout....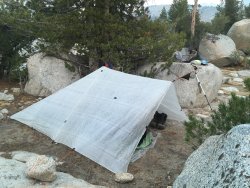 This is how I camp. No tent just tarp and map. With a good Down sleeping bag. It is surprisingly comfortable. No bugs around this time of year which helps.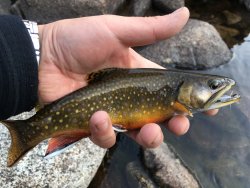 Brook Trout from Golden Trout Lake in Humphreys Basin, High Sierra.
Continued
Last edited: