Got to HB Pier around 4PM on Sunday with the intention to fish the incoming tide. High tide was around 6:10PM.
Got on an intermittent mackerel bite with decent size fish. Got them on a Majorcraft Jigpara Spin, sabiki, and a carolina rig with squid. My girlfriend was fishing a hi lo rig with squid and shrimp and got a smaller mackerel and jack smelt.
As the sun was setting, bonito rolled in. Dramatic boils of bait fish had everyone target casting at boils. We got a hit on a float rig with a sabiki. Thinking it was a mackerel I had my little cousin start reeling it in. As he got the fish above the water, I saw that it was a bonito and shouted "reel faster".
First bonito from a pier for us! Left around 7:30PM. Cooked up a couple mackerel for dinner, pan searing them coated with paprika and chipotle and finishing them in the oven with butter and lime. Added some mustard to stir-fried broccolini and crimini mushrooms with pickled beets and cucumber, radish salad.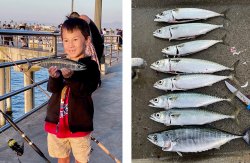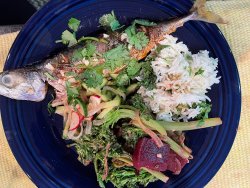 Smoked the rest of the mackerel + some more that we caught the day after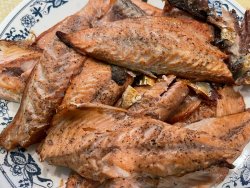 Last edited: