Rig: dropshot zoom fluke, with 1/0 owner mosquito hook, 12lb mono, and 1/2oz bass sinker.
Tackle: 7ft Med ugly stik lite, daiwa 2500 fuego with 10lb sufix 832.
Area: had a few hrs to spare this afternoon and headed to spot adjacent candlestick.
Hooked up around 4:30pm when the tide turned and began to flow out.
24" halibut. Very subtle bite, a light tick and my rod loaded up. A few short runs and she came in nice and easy.
I have been fishing the drop shot alot when the conditions are sunny and water is clear. I feel that in these conditions, the fish usually don't seem to be too aggressive. Subtle presentations seem to work best, but that can change ymmv. Just need to figure out the presentation and tactics for the moment. Part of the joys of angling.
Bleed, filleted and did a pan sear halibut with steamed rice and broccoli w lemon butter wine sauce.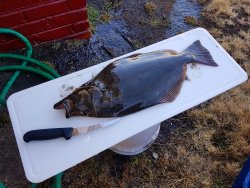 View attachment 2149
View attachment 20210331_192832.jpg
Last edited: